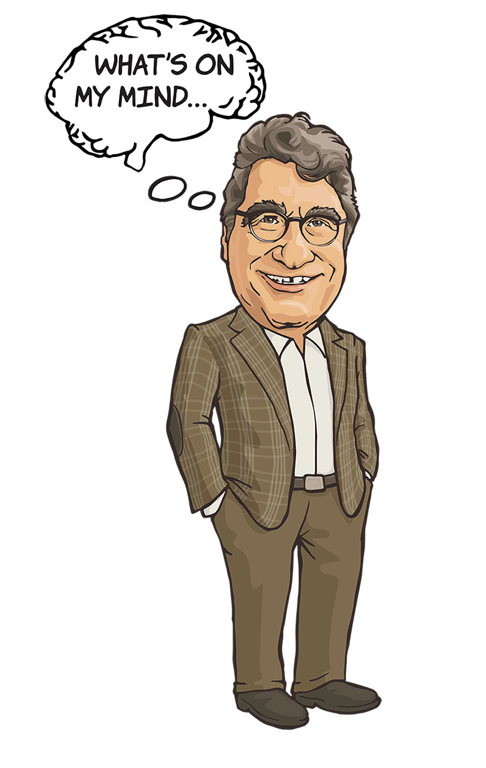 In two days, it will be my 32nd Commencement at Vanderbilt, and I will deliver my 12th address to a vibrant crowd of graduating students, family, friends, faculty and staff. As the tents go up around campus, and as I retrieve my Commencement robe from the back of my closet, I find myself reflecting not only on the year behind us, but also on what our accomplishments mean for the road ahead.
Commencement is a symbol of constancy and tradition, an event that is a rite of spring on our campus; and yet, every ceremony feels new. Each year's Commencement stands out because it celebrates a distinct class of students who carry specific accomplishments and contributions.
Indeed, every graduating student has something to be proud of. There's Sloane Chmara, who channeled her interests in wellness, nutrition and entrepreneurship into a growing online platform that has set an example for those around her. There's Kathleen Gallagher, who came to Vanderbilt's School of Medicine after serving our country as a combat medic in Iraq and Afghanistan, and has gone on to lead the Stop the Bleed first aid courses on our campus. There's Ben Scheer, who, after winning the Vanderbilt Student Changemaker Award in 2018, is more determined than ever to apply his technology expertise toward business and economic challenges. There's flautist Rama Kumaran, who pays forward his prodigious talent by mentoring young musicians. These students, and the hundreds more who will graduate this week, embody the full meaning of Commencement—both the years of hard work that it caps off and the lifetime of achievements that it launches.
When undergraduates in the Class of 2019 arrived on campus in August 2015, they collectively represented the most diverse and competitive class in Vanderbilt's history. Along with the professional and graduate students who also will receive their diplomas on Friday, they have expanded and deepened what it means to be a part of our university. They have set an aspirational benchmark for others—from their peers who will graduate this time next year, to those whose dreams of college are just starting to take shape.
As our students embark on a period of transition, I can relate. I, too, am at the cusp of a new phase of life, experiencing firsthand the intermixing of excitement and uncertainty, of looking forward to what cannot be fully defined and also considering the drawbacks of leaving something that I love.
Marking the end of my final academic year as chancellor, this Commencement will be my last at the podium. And what a year to end on! We all have much to be proud of from 2018-19: the official opening of E. Bronson Ingram College this fall, the 10-year milestone of Opportunity Vanderbilt, our commitment to a sustainable future and the continuous advancements of FutureVU, the launch of Provost Susan R. Wente's Women's Initiative, and permanently marking the legacy of David Williams and The Vanderbilt Way.
As we look at all that we have done, I know that our recent accomplishments are not just one-offs. They are the result of an ongoing and collective push toward lasting improvements. They permeate our campus and they build off one another. They create a foundation upon which other great strides can launch in the days, years and decades to come.
Commencement is not just about tying up our progress with a bow; it's about acknowledging and using our success to propel ourselves further. This Friday, as we all gather to celebrate our graduates, it may feel like a moment of closure and reflection. But according to the word "commencement" itself—with its time-tested, 13th-century origins—it is also a moment of "coming into existence."
I hope you will all join me in celebrating the students who are graduating this week, their past, their future and all that we have done together. From The Party tonight to tomorrow's Senior Day address from athlete and entrepreneur Venus Williams to big moments on Friday and beyond, there are so many chapters just starting to commence.