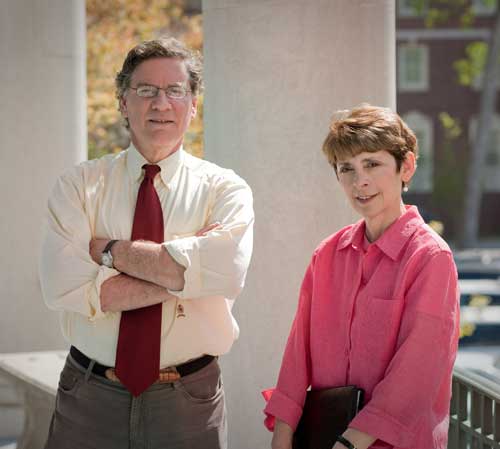 A Vanderbilt special education research team served as guest editors of the January issue of Exceptional Children, the distinguished research journal of the Council for Exceptional Children, available online today.
Douglas Fuchs, Nicholas Hobbs Professor of Special Education; and Lynn S. Fuchs, the Dunn Family Professor of Psychoeducational Assessment at Vanderbilt's Peabody College of education and human development, co-edited the issue, choosing the theme of moderator analysis.
"Moderator analysis is a relatively underused statistical technique that determines whether the relationship between two variables depends on (is moderated by) the value of a third variable," Douglas Fuchs said. "Over the last 10 years or so it has become much easier to use and apply. Intervention researchers have become increasingly open to the idea that moderator analysis may help us understand for whom the programs work or don't work."
The Fuchs asked five accomplished intervention researchers to join them in writing for the issue, and sevenresearch papers in all are featured. Each team selected a previously published intervention study on which to conduct moderator analysis, examining whether at-risk students' pretreatment performance in reading or mathematics interacts with the effects of intervention.
An eighth and final article is authored by two respected quantitative psychologists at Vanderbilt, Kristopher Preacher and Sonya Sterba. Together they reflect on study findings and comment on methodological implications for guiding future work.
"We hope these articles inspire others to explore learner characteristics that moderate or interact with response to Tier-2 and Tier-3 interventions," Lynn S. Fuchs said. "At a more general and ambitious level, we hope this issue strengthens researchers' curiosity about whether children's cognitive, behavioral and social characteristics might eventually shape instructional programs that more successfully address the needs of students with very significant learning needs."
Read "On the Importance of Moderator Analysis in Intervention Research: An Introduction to the Special Issue."