Chancellor Nicholas S. Zeppos called on the Vanderbilt community to join together to fight for the university's values and also announced a new $25 million fundraising challenge at the Fall Faculty Assembly on Thursday.
"The division roiling our nation today is as old as America itself. Our country has stood on what felt like the chasm's edge before," he told the crowd at the Student Life Center. "And through all of these challenges, American universities have had a choice to make. A choice to turn and run or to join together and fight for positive change."
Zeppos reflected that universities are filled with optimists because all those who dedicate themselves to education and research believe that solutions exist and progress is possible. "We know that the optimism and hope that rests at the core of teaching and discovery will light the way forward," he said.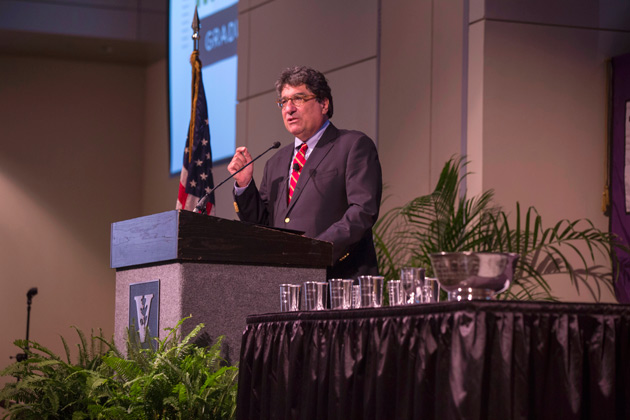 "And we know today—in this fraught moment—that we can, and we must, join together and fight for those same shared values," he added. "Through 10 colleges and schools thriving side by side—we are all united as One Vanderbilt by a distinct set of values."
In outlining the university's values, he touched on Vanderbilt's commitment to access and affordability, trans-institutional academic research, diversity and inclusion, global impact and investing in students, faculty and staff.
"Now more than ever, it is our duty to marshal the power of these values and strengths against the challenges before us," Zeppos said. "To seize this moment—our moment—to carry Vanderbilt's mission forward."
Thanks to a partnership among the Faculty Senate leadership, interim Vice Provost for Faculty Affairs Tracey George and the Division of Communications, the fall assembly included new features, including a Blair jazz ensemble performing before the event. For the first time, Blair faculty also presented the faculty research portion to close the program, with Professor of Violin Carolyn Huebl and Associate Professor of Percussion Ji Hye Jung performing Astor Piazzolla's Histoire du Tango. The duo received a standing ovation.
Read about this year's faculty research award winners. >>
During his presentation, Zeppos outlined a new fundraising initiative. Similar to last year's Chancellor Chair Challenge, which resulted in 18 new endowed faculty chairs, this effort is designed to support faculty early in their careers. The $25 million Faculty Challenge will help fund Chancellor Faculty Fellows, Dean's Faculty Fellows and directorships.
"Vanderbilt is investing $25 million to launch this effort and we are inviting visionary donors to join us to invest in rising stars through the Faculty Challenge," he said. "Our faculty are the lifeblood of our university. This initiative will help us to recruit and retain outstanding teachers and scholars."
Similarly, Zeppos shared how investing in Opportunity Vanderbilt has positively impacted the university by recruiting the best students, regardless of their ability to pay. "By being committed to making our elite education available to every qualified student, we have elevated the university," he said. "Our admit rate dropped below 10 percent for the first time, to 9.6 percent. We have our highest yield rate in history, the highest percentage of international students and highest percentage of Pell Grant recipients."
Alumni and donors have given $387 million to support Opportunity Vanderbilt since its launch in 2008.
"We are only as great as the width of the doors we open to talented students. And we are the ones who are privileged because we have all these talented students from every walk of life in our community now," he said.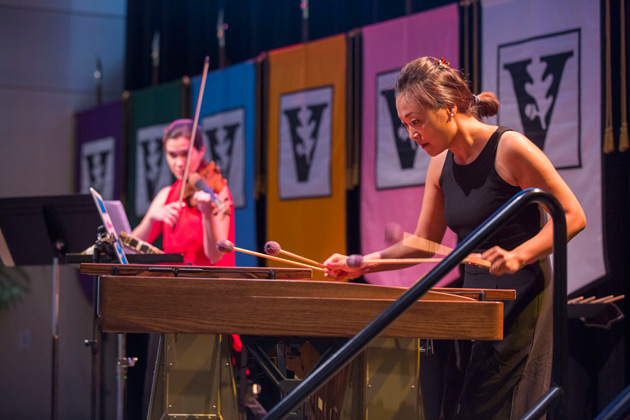 Zeppos welcomed James E. Page Jr., the new vice chancellor for equity, diversity and inclusion, to the Vanderbilt community. "James brings outstanding experience building cultures that support and advance diversity and inclusion and propel organizations forward," Zeppos said, noting that Page will work in collaboration with all vice chancellors.
Zeppos showed how capital investments in academic buildings and residential colleges, including the just-opened E. Bronson Ingram College, support the university's mission. "We are investing in the physical plants for all our colleges and schools," he said. "These buildings must be designed to inspire our community and sustain us."
He also stated that the new Data Sciences Institute, fueled by Trans-Institutional Program awards, was the next step in Vanderbilt's commitment to interdisciplinary discovery. "This is a clear strategic opportunity and will advance research across the university," he said. "Students will benefit through a new master's-level degree program in data science and new courses in data science for undergraduate students."
To broaden Vanderbilt's influence and reach, the university this fall will move forward with its international strategy, adding a new global research microgrant program and pursuing plans for a visiting fellows program and new global institute.
"We must be a destination university for the best academics and the best intellectuals around the world," Zeppos said.
Zeppos closed his remarks with his vision for the university.
"We want to be a community known for who we include, not who we exclude. A community known for saying 'let's try it again' instead of 'it can't be done.' A community known for building allegiances, not erecting boundaries," he said. "A community known for investing in long-term vision, not short-term gain. A community built upon shared values of civility and respect, not hatred and fear. A community that, through optimism and a contagious collaborative energy, creates and deploys the knowledge, ideas and leaders that drive positive change in the world."