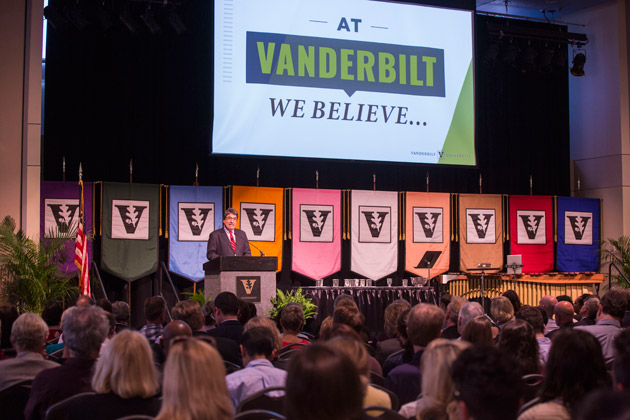 Vanderbilt's most prestigious faculty honor for accomplishments in research, scholarship or creative expression was awarded to Kathleen Gould during Fall Faculty Assembly Aug. 23.
Gould, the Louise B. McGavock Chair, professor of cell and developmental biology, and associate dean for biomedical sciences, received the Earl Sutherland Prize for Achievement in Research.
Gould's research focuses on the division of cells, the fundamental unit of all living things. She is one of the world's foremost scientists working on the last step in cell division—the separation of cells. When this process goes wrong, cells die or cancer occurs.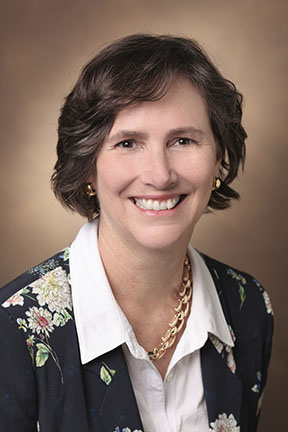 "Without any doubt, Kathy is a superstar—brilliant scholar, extraordinary teacher, outstanding institutional citizen," Chancellor Nicholas S. Zeppos said. Ian Macara, Louise B. McGavock Chair, professor of cell and developmental biology and chair of the department, accepted the award on her behalf at the Student Life Center ceremony.
Gould's research has led to the publication of more than 130 peer-reviewed papers, numerous works placed in top-ranked journals, and many honors and awards. In 1992 she won the prestigious Searle Scholar Award, only the sixth Vanderbilt faculty member to have received this honor in its 36-year history. She was awarded the Boehringer Ingelheim New Investigator Award in 1992, elected as a fellow of the American Association for the Advancement of Science, and appointed as an investigator of the Howard Hughes Medical Institute, a position she held for 19 years.
At Vanderbilt, Gould has won the John H. Exton Award for research and an Excellence in Teaching award. She has given scores of talks at institutions and conferences around the world, and her research work has appeared in multiple top-ranked journals, including Developmental Cell, ELife, PNAS, J Cell Biol and Genes & Development. She was named Vanderbilt's SEC Faculty Achievement Award winner for 2018.
The Sutherland Prize includes a cash award of $10,000 and an engraved pewter julep cup. In addition, Gould's name will be engraved alongside past Sutherland Prize winners on a silver bowl that she will possess for one year.
Gould was one of 10 award recipients during Fall Faculty Assembly. The others were Brian Heuser, Jessica Kennedy, Herbert Marbury, Clare McCabe, Douglas Shadle, Steven Townsend, Michael Vandenbergh, Jonathan Gilligan and Colin Walsh. Members of the faculty with 25 consecutive years of service also were recognized and will receive a chair with the Vanderbilt logo and a brass plate engraved with their name.
Thomas Jefferson Award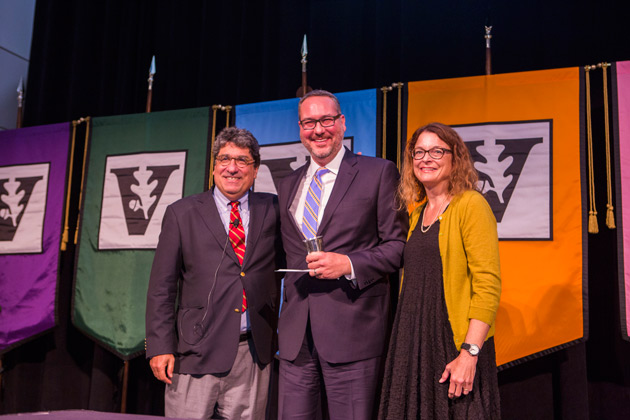 Brian Heuser received the Thomas Jefferson Award "for distinguished service to Vanderbilt through extraordinary contributions as a member of the faculty in the councils and government of the university."
Heuser is associate professor of the practice of international policy in Peabody College and serves as the faculty director of the Ingram Scholars Program.
"Over the years, Brian's service to the university has been dedicated, substantial and constant," Zeppos said. "On the Faculty Senate alone, he has served as vice chair, chaired committees and subcommittees, and played a key role on the Faculty Manual committee, where he developed guidelines to enhance the standing of faculty within the university. He has led or served on important committees in his college and the university as well. He is a true citizen of Vanderbilt."
The Thomas Jefferson Award is accompanied by $5,000 and an engraved pewter goblet.
Chancellor's Awards for Research on Equity, Diversity and Inclusion
Two faculty members received the Chancellor's Award for Research on Equity, Diversity and Inclusion, which recognizes excellence on the part of faculty in published research, scholarship or creative expression that advances our understanding of equity, diversity and inclusion. The awards, given for works presented or published in the preceding three calendar years, consist of a $2,000 prize and an engraved pewter julep cup. The recipients are: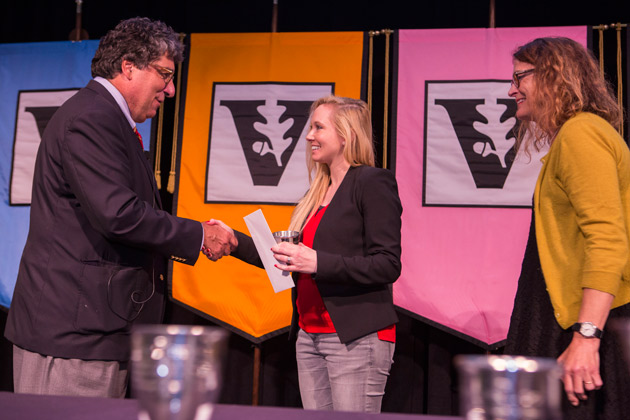 Jessica Kennedy, assistant professor of management, for her research into gender differences in negotiation. Her research explores how gender shapes social exchanges at work. Kennedy identifies when women and men behave differently and when they are treated differently in negotiation. Her findings have implications for how leaders can level the playing field.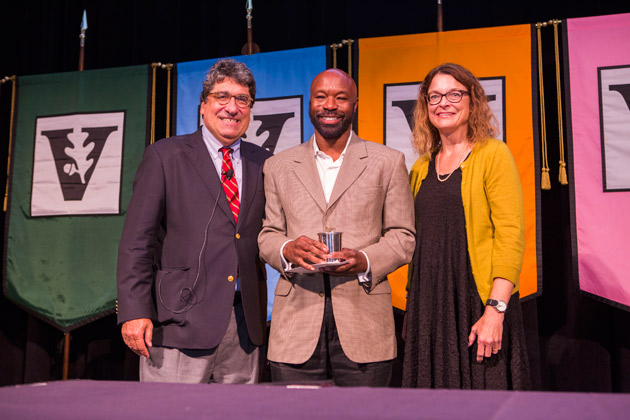 Herbert Marbury, associate professor of Hebrew Bible, for his book, Pillars of Cloud and Fire, in which he explores how African Americans have developed their own sacred traditions and their own civil discourses. The book explains how African American intellectuals offered interpretations of the Bible that were radically different from—and even opposed to—those of many of their white counterparts.
Chancellor's Awards for Research

Six Vanderbilt professors won Chancellor's Awards for Research, which recognize excellence on the part of faculty for published research, scholarship or creative expression. The awards, given for works presented or published in the preceding three calendar years, consist of a $2,000 prize and an engraved pewter julep cup. The recipients are: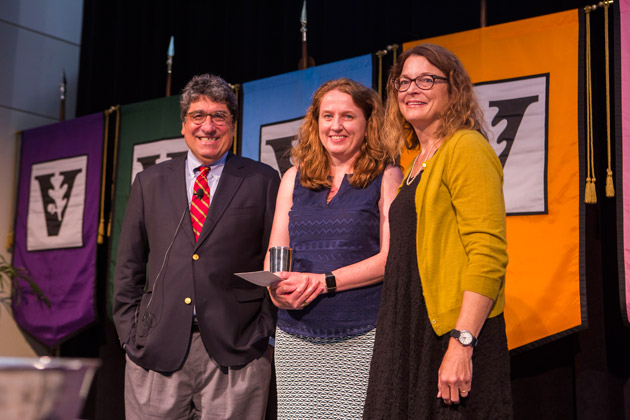 Clare McCabe, Cornelius Vanderbilt Professor of Engineering, for her paper on simulating skin assembly. "Clare's pioneering research helps us understand how skin can acquire its barrier function, which is essential to human life," Zeppos said. "The honored paper brings together techniques and models that she has developed over years of painstaking work."
Douglas Shadle, assistant professor of musicology, for his book Orchestrating the Nation: The Nineteenth-Century American Symphonic Enterprise. His book explores the volatile relationships among composers, performers, critics and audiences from the Jacksonian era through the Gilded Age. "By unearthing a forgotten body of work and placing it in a rich historical setting, Doug makes a defining contribution to the field of musicology," Zeppos said.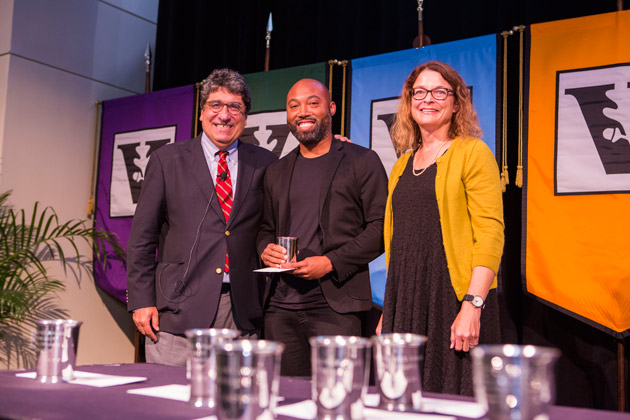 Steven Townsend, assistant professor of chemistry, for his journal article on human milk's antimicrobial properties. "Steven's article shows that compounds in human breast milk have the ability to defeat pathogens that are a risk to humans of all ages," Zeppos noted. "The response to the work has been tremendous, including more than 100 news reports, thousands of downloads and recognition by the American Chemical Society."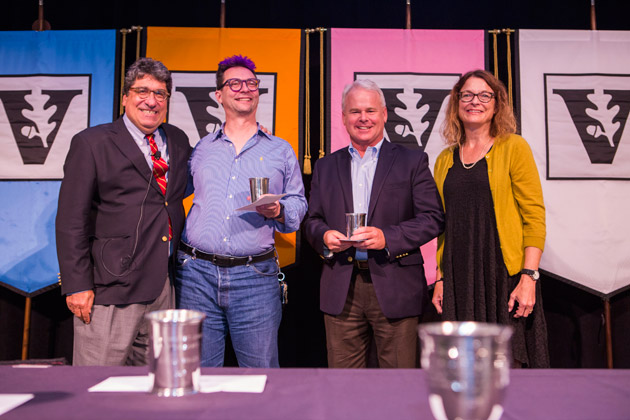 Michael Vandenbergh, David Daniels Allen Distinguished Professor of Law, and Jonathan Gilligan, associate professor of earth and environmental sciences, for their book Beyond Politics: The Private Governance Response to Climate Change. The book is a culmination of a decade of their work through the Climate Change Research Network, a TIPS-funded initiative. "Michael and Jonathan draw on law, policy, social science and climate science to advance a novel and persuasive case for using private governance to reduce global carbon emissions," Zeppos said. "Their work is changing the conversation around climate change."
Colin Walsh, assistant professor of biomedical informatics, medicine and psychiatry, for his article on using machine learning to help predict suicide risk. "Colin's article describes his novel predictive models of suicide attempt risk by combining what humans do best—understanding clinical nuance and risk—with what machines do best—discovering mathematical patterns in complex longitudinal data. The result is accurately predicting the risk for suicide attempts up to two years before," Zeppos said.
25 years of service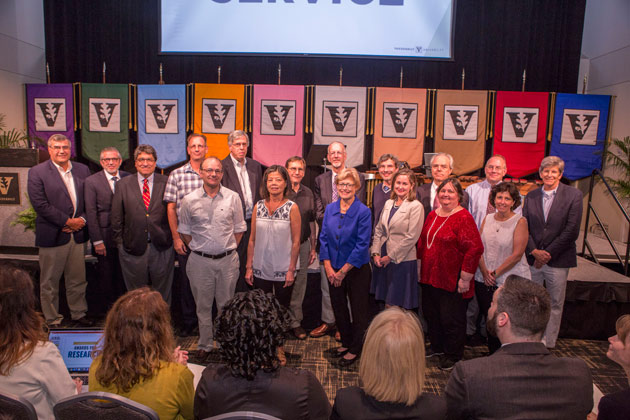 Faculty members who have achieved 25 years of continuous service to Vanderbilt were recognized at the assembly. "Our faculty are the lifeblood of the institution. It's your teaching, your research and your commitment that make it possible for Vanderbilt to move forward in its mission," Zeppos said.
Each will receive a chair with the Vanderbilt logo and a brass plate engraved with their name. They are:
Ban Mishu Allos
Alan S. Boyd
Andrea C. Bracikowski
Luke M. Froeb
William E. Gabella
David W. Haas
Norman Chandler Hardman Jr.
Vicki S. Harris
Charles Howard Hausman
Alex J. Hurder
Yoshikuni Igarashi
Margaret Babb Kennedy
Mac Rae F. Linton
Melanie Lutenbacher
Barbara A. Murphy
Bruce I. Oppenheimer
James G. Patton
Shawn T. Phillips
Subramaniam M. Sriram
Michael Stein
Luc Van Kaer
Brian E. Wadzinski
Mark Wait
Cynthia M. Wasick
Douglas R. Weikert
William G . Wiggins
Lan Wu