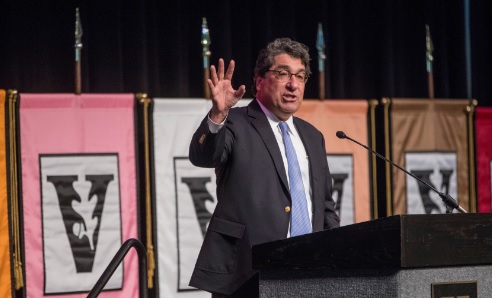 Vanderbilt University is inviting its alumni and supporters to play a leading role in expanding its world-class faculty with the Chancellor Chair Challenge, a yearlong, $30 million investment by the institution designed to create 30 new endowed chairs.
Vanderbilt Chancellor Nicholas S. Zeppos announced the initiative at Thursday's fall faculty assembly, pledging a million-dollar match from the university's endowment for each chair gift of $1 million or more made by June 30, 2018.
"[lquote]Our faculty, through their research and discovery, are the engine that drives innovation. They are truly the lifeblood of Vanderbilt[/lquote]," Zeppos said. "Investing in our faculty will continue to provide rich, lasting dividends. These new endowed chairs will enhance our ability to recruit and retain faculty members with remarkable scholarship—those who lead us to transformational discoveries, those who teach our students to lead."
The chair challenge calls on alumni, parents, friends, families and other donors to play a prominent and enduring role in Vanderbilt's tradition of a first-class faculty by establishing an endowed chair, which provides a faculty member with secured funding to advance research and discovery. Vanderbilt has added approximately 200 chairs over the last decade and currently has 420 endowed chairs.
"An endowed chair—the highest academic honor we can bestow on a faculty member— both honors the named holder of the appointment and serves as an enduring lasting tribute to the donor who establishes it," Zeppos said. "Endowed faculty chairs are a personal and permanent bond between the university and those who love it."
Two donors have made significant gifts to kick off the challenge.
A gift from Theresa L. and Robert S. Reder, JD'78, of Long Beach, New York, has established the Enterprise Chair at Vanderbilt Law School. Bob retired from Milbank Tweed Hadley & McCloy in New York City in 2011 following a 33-year career in corporate law. He is currently a professor of the practice at the law school and has been a member of the school's Board of Advisors since 2010. In 2016, the Reders also committed to establish a chair at the law school through a bequest. They endowed the law school's Enterprise Faculty Fund in 2013.
A gift from Jennifer and Andrew Hoine, BA'96, of New York City has established the Andrew and Jennifer Hoine Chair in Economics at the College of Arts and Science. Andrew Hoine is a partner, co-portfolio manager and director of research at Paulson & Co., an alternative investment manager. The couple has also endowed a need-based scholarship in the college. He is a member of the Board of Visitors at the College of Arts and Science and serves as a VUconnect career adviser.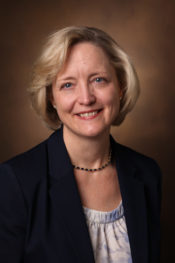 "We are so grateful for these gifts and excited for the momentum they bring to our chair challenge," said Susan R. Wente, provost and vice chancellor for academic affairs. "Endowed chairs provide our faculty the resources they need to do outstanding work in research and teaching. Endowing a chair also creates the opportunity for students to work side by side with innovative faculty who are leading experts in their fields. When students are able to combine classroom learning with the real world of innovation and discovery, we all come out ahead."
The Chancellor's Chair Challenge runs through June 30, 2018. For more information about the challenge and giving to Vanderbilt, visit vu.edu/chairchallenge.