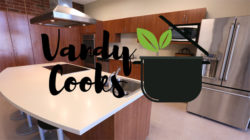 In celebration of June Dairy Month, join Karman Meyer from noon to 1 p.m. Friday, June 15, at the Vanderbilt Recreation and Wellness Center teaching kitchen as she demonstrates how to include dairy foods such as milk, cheese and yogurt in family-friendly meals and snacks. The menu will feature recipes from The Dairy Alliance, including mini quiche muffins and a protein-packed smoothie. All attendees will receive delicious samples along with the recipes to take home to share with family and friends.
Meyer is a registered dietitian/nutritionist based in Nashville. Teaching people easy ways to implement healthy changes into their lifestyle is her passion. She is an experienced recipe developer, nutrition writer and public speaker and has worked in the food industry for more than a decade. Find healthy recipes and more at TheNutritionAdventure.com.
Vandy Cooks is provided monthly through a partnership between the Vanderbilt Recreation and Wellness Center and Health Plus to support healthy eating through cooking presentations featuring the many aspects of food preparation.
Contact: Marilyn Holmes, (615) 343-2638
marilyn.c.holmes@vanderbilt.edu