Media Inquiries
Latest Stories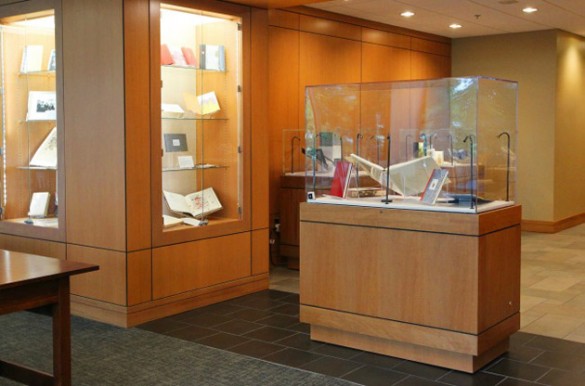 Ten projects involving 25 faculty and staff members have been awarded nearly $750,000 in funding to strategically bolster collections in support of research and scholarship through the Library Collections Initiative.
Projects for the Jean and Alexander Heard Library's special and permanent collections include expanding Vanderbilt's holdings of contemporary music scores, further developing the Afro-Hispanic collection, and adding to collections that will broaden and deepen the historical understanding of social transformation.
The one-year initiative, announced in August, is designed to support faculty-driven research and scholarship with funding from the chancellor and provost. Projects were funded for faculty in the College of Arts and Science, the Blair School of Music and Peabody College of education and human development.
"I thank the faculty and librarians for these proposals and participation in this important initiative to expand our library collections," said Provost and Vice Chancellor for Academic Affairs Susan R. Wente. "These new acquisitions will aid both faculty and students in their research of the arts and humanities and will bring scholars from around the globe to Vanderbilt."
Ad-hoc faculty committees reviewed the proposals as they were submitted. Associate Provost for Strategic Initiatives and Partnerships Ifeoma Nwankwo led the review effort, which included 34 faculty members from all 10 colleges and schools. University Librarian Valerie Hotchkiss served in an ex-officio capacity.
Three projects are highlighted below. The full list can be viewed here.
Contemporary printed music scores: The cost of contemporary printed music scores is prohibitive, so most libraries purchase only the most seminal works of a composer. Through this grant, more than 900 contemporary scores were added to the university's collection, allowing the Wilson Music Library to better support research and performance opportunities and potentially draw outside scholars to Vanderbilt. The proposal was led by Peter Kolkay, associate professor of bassoon.
Expansion of Latin American Special Collections: In 2009, Vanderbilt purchased the collection of Manuel Zapata Olivella, one of the most distinguished figures in contemporary Colombian literature. With the new funding, Vanderbilt has acquired a collection of Zapata's sister, Delia Zapata Olivella, a noted dancer, choreographer and folklorist who pioneered study and preservation of Colombian traditional dances and Afro-Colombian culture and history. This major acquisition of her papers, books, videotapes, film, posters and photo albums complements Vanderbilt's J. León Helguera Collection of Colombiana and supports further research and possible curricular development in this field. The proposal was led by Professor of History Jane Landers, who also holds the Gertrude Conaway Vanderbilt Chair in the Humanities.
Multimodal resources for social transformation: past and present: This proposal included acquisitions that will broaden and deepen the historical understanding of processes related to social transformation toward equity and justice. The first is a purchase of a rare and historical curated collection of juvenile literature that provides a historical evolution of race and gender, providing a fuller span of works to be used with courses in Peabody College. The second is access to primary source materials that will help raise the status of the African American and Diaspora Studies collection. These primary sources include historical black newspapers and archival collections on African American communities and race relations in America. The proposal was led by Christina daSilva Iddings, professor of the practice of education, and Marzia Milazzo, assistant professor of English.