Media Inquiries
Latest Stories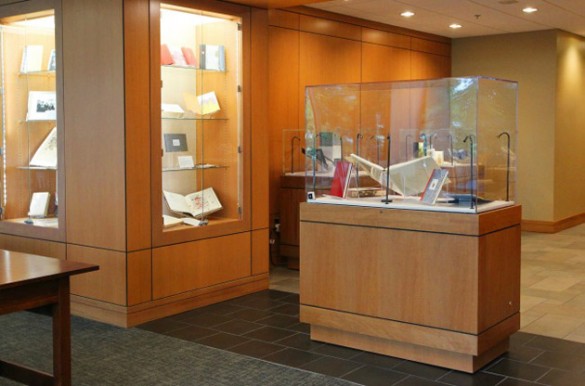 The Jean and Alexander Heard Library's special and permanent collections will be strategically expanded this year via a new one-year program called the Library Collections Initiative. The expansion is thanks to a chancellor- and provost-sponsored funding initiative to support faculty-driven research and scholarship.
In response to the Academic Strategic Plan, which calls for the advancement of excellence in research and scholarship, the university is making a series of substantive and strategic investments in the Heard Library system by strengthening existing resources and launching new initiatives.
One of the new programs is the Library Collections Initiative, which will award—through a competitive process—funding to faculty to secure and acquire new collections of primary resources and research materials.
"The nine libraries at Vanderbilt are our laboratories of the mind, where ideas are shared, tested and created," Provost and Vice Chancellor for Academic Affairs Susan R. Wente said. "It is essential that we not only maintain, but also bolster, the impact of the libraries by acquiring stellar collections with real research potential. Having a library with robust collections is critical for all disciplines, and especially so for the arts and humanities. In addition, new collections will complement many of our strategic initiatives ranging from the new digital humanities center to Immersion Vanderbilt."
All full-time, VU-employed and provost-reporting faculty are eligible to partner with a librarian or librarians in submitting proposals. Each proposal should be completed by a team involving at least one faculty member and one librarian, following the submission guidelines for documenting both purchase justification and processing requirements. A complete list of process and eligibility guidelines are available on the Library Collections Initiative webpage.
Given the need for timely action due to the time-sensitive nature of some acquisition opportunities, proposals will be evaluated as they are submitted by ad hoc committees assembled in part from members of the newly established University Library Committee, chaired by Associate Provost for Strategic Initiatives and Partnerships Ifeoma Nwankwo in consultation with University Librarian Valerie Hotchkiss, who will serve in an ex officio capacity.
Application materials will be available on the initiative's webpage Sept. 15, and the application portal will open Oct. 1.