MyVU has profiled 14 members of the Class of 2018. We're featuring their stories in the lead up to Commencement on May 11.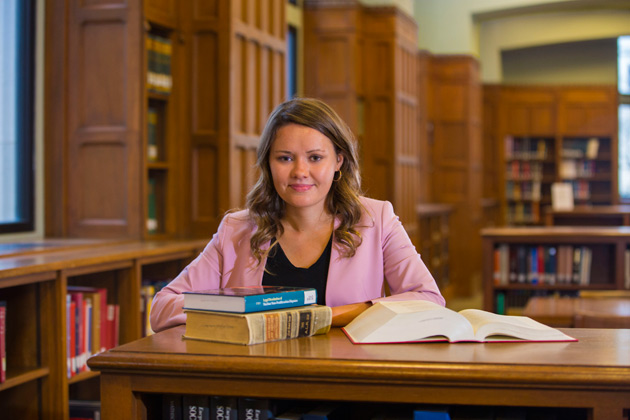 At age 12, Logan Brown decided she wanted to be a lawyer. Up to this point, the extent of her experience with the judicial system was attending civics class and watching lots of episodes of Law and Order. So the preteen pursued and landed an internship at the Douglas County district attorney's office in Lawrence, Kansas, giving her a front-row seat to the legal system at work.
"I spent a lot of time throughout middle and high school in a courtroom gallery watching hearings and sitting in on meetings with victims and their families," she said. "I saw how a person's life can be changed in an instant, and I wanted to be a part of helping victims of violence."
A Chancellor's Scholar, Brown chose Peabody College's human and organizational development major because of its diverse course offerings and internship opportunities. Over the course of her Vanderbilt career, she spent a semester at East China Normal University in Shanghai, and another at the American University in Dubai as a William Jefferson Clinton Scholar. She interned at the U.S. Department of Defense's Daniel K. Inouye Asia-Pacific Center for Security Studies in Honolulu, Hawaii, where she assisted in the instruction of counterterrorism courses to military officials.
Having recently earned a prestigious Marshall Scholarship, Brown will spend the next year pursuing a master's degree in terrorism, security and society at King's College London. Then she'll return to the states to attend law school so she can fulfill her long-held dream.
"I'm so lucky. I have a great family, and along the way there have been so many people, including my professors at Vanderbilt, who have gone above and beyond to help me reach my aspirations," Brown said. "I could not have done any of this alone."