Vanderbilt senior Logan Brown has been named a Marshall Scholar for 2018, and senior Jacqueline (Jami) Cox has been named to the third class of Schwarzman Scholars, both organizations announced today.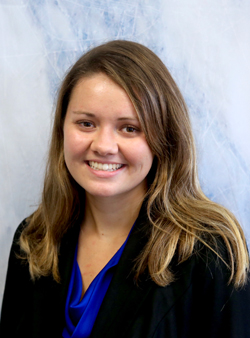 Brown, from Lawrence, Kansas, is majoring in human and organizational development at Peabody College of education and human development. She is Vanderbilt's 14th Marshall Scholar, with the last one from the university named in 2007.
Funded by the British government, the Marshall Scholarship provides exceptional young Americans with the opportunity for one to two years of graduate study in any field at a U.K. institution. This year, 43 scholarships were awarded out of approximately 950 endorsed applicants in a rigorous nationwide competition. Scholars are selected on the basis of academic merit, leadership potential and ambassadorial potential.
As a Marshall Scholar, Brown will pursue a one-year master's degree in terrorism, security and society at King's College London. Afterward, she plans to attend law school and earn a J.D. with the goal of working on counterterrorism through an international legal perspective.
Brown interned at the U.S. Department of Defense's Daniel K. Inouye Asia-Pacific Center for Security Studies. As part of her HOD honors seminar, she researched best practices for responding to terrorism events using video forensics. Brown studied abroad at East China Normal University and as a William Jefferson Clinton Ambassador to the American University in Dubai.
Brown said her perspective has been shaped by various court cases she has witnessed as well as becoming acquainted with victims. She has interned with her local district attorney's office since age 12 and has worked with victims of violence. She co-founded a nonprofit, created a community policing basketball camp, and started fundraisers that have raised more than $200,000 and the equivalent of $400,000 in in-kind donations. In addition, Brown has recruited more than 400 community partners to assist victims of violence and in violence prevention efforts.
"I am incredibly grateful for the faculty, family, friends and professors who have supported me over the last four years," Brown said. "No one wins a Marshall Scholarship on their own. I know that I would not be here without so many people who have helped me."
Cox, from St. Louis, Missouri, is majoring in public policy studies and minoring in Chinese language studies in the College of Arts and Science. She will be Vanderbilt's second Schwarzman Scholar.
The Schwarzman Scholars program was inspired by the Rhodes Scholarship and is designed to meet the challenges of the 21st century and beyond. Some 142 Schwarzman Scholars were selected from more than 4,000 applicants for the class of 2019, which comprises students from 39 countries and 97 universities—41 percent from the United States, 20 percent from China and 39 percent from the rest of the world.
Blackstone co-founder Stephen A. Schwarzman personally contributed $100 million to the program and is leading a fundraising campaign to raise an additional $500 million from private sources to endow the program in perpetuity. The program currently has raised $516 million toward its $600 million goal. This endowment supports up to 200 scholars annually for a one-year master's degree program at Tsinghua University in Beijing, one of China's most prestigious universities.
As a Schwarzman Scholar, Cox will pursue a master's in global affairs. While in the program, she plans to strengthen her understanding of international policy and urban development. Afterward, she plans to return to the United States and work for an urban planning office in local or state government.
During her time at Vanderbilt, Cox has served as president of Vanderbilt Student Government, president of the Black Student Association, as a resident adviser and as a Cornelius Vanderbilt Honors Scholar. Through the Office of Active Citizenship and Service, she participated in a four-week global service immersion program in South Africa. Cox also completed a Maymester in Beijing and Shanghai. She is currently interning at the Nashville Civic Design Center. Cox said she cultivated her interest in public service during internships with the U.S. House of Representatives and U.S. Census Bureau in Washington, D.C.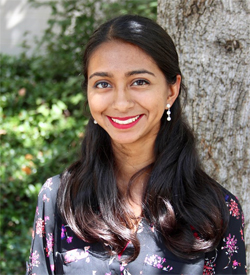 Vanderbilt had two finalists this year for the Rhodes Scholarship—Brown and Deepa Rajan, a senior majoring in neuroscience in the College of Arts and Science and minoring in violin performance at Blair School of Music. They were among the 228 students endorsed by their institutions who made it to the final stage of the competition. Both Brown and Rajan were invited to interview for one of the 32 Rhodes Scholarships awarded annually.
Advising and support for honors scholarship applicants transitioned to the Vanderbilt Career Center in July 2017.
"It has been a privilege to work with some of Vanderbilt's finest students and support them as they become international scholars and future leaders," Kate Brooks, Evans Family Executive Director of the Career Center, said.