Media Inquiries
Latest Stories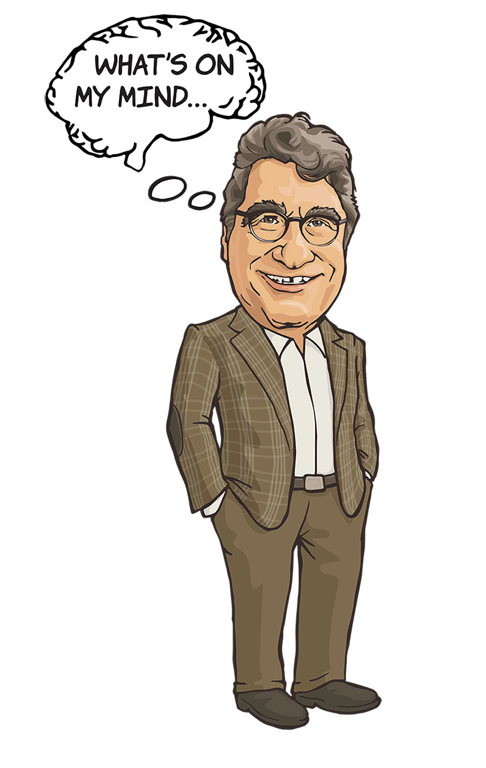 This regular column is aimed at opening another channel of conversation with you about the opportunities and challenges we face, together as the faculty, students, staff and leaders of our great university.
Vanderbilt hosted "Wrestling With Our Past," our first symposium on race and reconciliation, last week. The research and perspectives shared have occupied my thoughts since.
Our conference has its roots in the 2016 renaming of Memorial Hall. That day, I pledged that we would begin this annual symposium to explore and discuss the nation's complicated racial history. If we are to move toward a more just society for all of us, we have to educate ourselves and others about the full story of our past. My wonderful colleague Dennis Dickerson, the James M. Lawson Jr. Professor of History, made that vision a reality.
Vanderbilt is not alone in having a tangled past with slavery, the Confederacy and the naming of buildings. We discussed a similar controversy at Yale over renaming a residential college, and Georgetown struggled with intense debate over decisions by prior presidents—each memorialized by the naming of a building—who sold 272 slaves to save the university from bankruptcy.
We can shine a bright light on the past and fight to ensure these wrongs don't happen again. One of the panelists said, "Proper history is not afraid of dark corners." Finding a way to talk with each other about events that have been kept in the shadows, and sharing our differing perspectives about those events, allows us to build community.
The community demonstrated during the conference is a prime example of what America needs right now. The country is divided on all sorts of issues—race, religion and immigration, to name a few. We've always been a country of competing viewpoints. But what's missing today are opportunities to share those viewpoints civilly, with underlying respect for others and a shared commitment to the common good.
How can we find our way back? A good place to start is a renewed commitment to civic engagement and civil discourse, which we as a university can foster through events like this conference. We must engage with our neighbors and our co-workers to learn what keeps them up at night. We don't have to agree with them, but we must start communicating. We must start listening.
At Vanderbilt, we've worked to build a community that is rooted in respect and bound by our common mission to teach, to learn, to cure and to serve.
College may be the last time in a person's life that they are brought together to live and learn with people completely unlike themselves, and our residential colleges, with their slow-cooking brand of learning, make the most of that opportunity. Students live in communities comprising different religions, different backgrounds, different races, different experiences—learning not just to live together, but also to listen to opposing viewpoints to gain understanding and also to challenge one another.
The point is, it's not easy to listen to opinions completely opposite of your own or learn facts that reshape your longstanding views. But the cost of not listening, not engaging in civil discourse, and not working for the common good is much greater.
At the conference, we were reminded of Charleston, South Carolina, where self-proclaimed white supremacist Dylann Roof killed nine members of the Emanuel African Methodist Episcopal Church. The church is less than a block from the 115-foot-tall statue of John C. Calhoun that dominates Marion Square and sits on Calhoun Street. Did the state-sanctioned remembrance of a man who declared slavery to be "a positive good" influence Roof? It's not easy to ask questions like that, but isn't this exactly what we should be talking about?
Critics say renaming buildings and removing monuments are an effort to rewrite history. But whose history are we rewriting? When all the perspectives are told, we glean a fuller picture of history. History has long been written by the victors. It's time we heard other voices.
One of those voices is Nashville author and poet Caroline Randall Williams, daughter of Vanderbilt writer in residence Alice Randall, who shared her powerful thoughts and perspective at the conference.
Williams said she has "two black parents and four black grandparents and eight black great-grandparents." But through genetic testing, she learned that her DNA is 53 percent European. "But there are no white people in my genealogy, so that means none of that was consensual," she said. "You talk about monuments to the past? My body is a monument to the past. I am a standing memory of the truth of the past. You talk about celebrating white ancestors? No one asked me if I wanted to celebrate my white ancestors. I am not proud of my ancestors."
Comments like Williams are difficult for many to hear, but understanding the pain and anger behind them is important. Fostering this kind of sharing is essential. Civil discourse allows us to hear her words, respectfully ask for clarification, and gain understanding. Civil discourse can serve as a social cement, moving us beyond self-interest to understanding, which will preserve the whole.
"What's On My Mind" is a regular column from Vanderbilt University Chancellor Nicholas S. Zeppos on the life, people and mission of Vanderbilt University and issues affecting higher education today. Share your thoughts at chancellor@vanderbilt.edu.