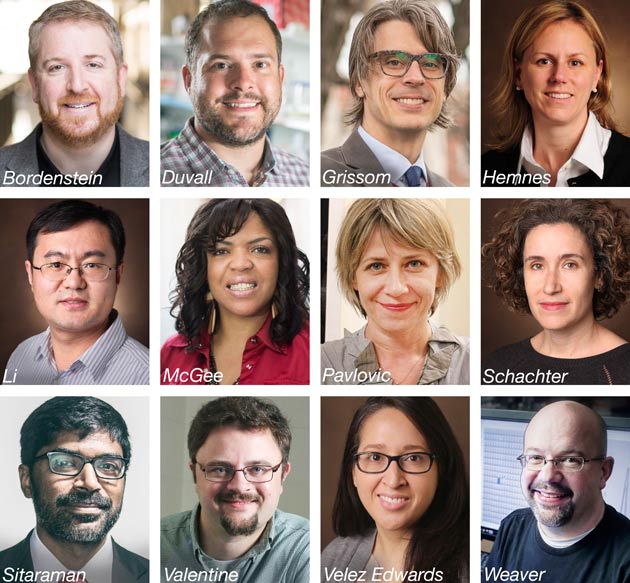 Twelve outstanding faculty members from across the university have been named to the 2018 class of Chancellor Faculty Fellows. The class comprises highly accomplished, recently tenured faculty from all corners of campus.
"Our world-class faculty are the heart of Vanderbilt, and investing in our faculty is also an investment in the university community, today and for years to come," Chancellor Nicholas S. Zeppos said. "The Chancellor Faculty Fellows program recognizes these academic leaders early in their careers and provides a lasting foundation for their scholarly research. We are committed to our faculty and their discovery of new knowledge that keeps Vanderbilt moving forward."
The faculty members will hold the title of Chancellor Faculty Fellow and will be supported by an unrestricted allocation of $40,000 a year for two fiscal years beginning July 1. The funds can be used to support innovative research, scholarship and creative expression that will further propel their careers. The Chancellor Faculty Fellows meet as a group during the course of their awards to exchange ideas on teaching and research, building a broader intellectual community that advances trans-institutional scholarship.
"We are now entering the fourth year of the Chancellor Faculty Fellow program, and the entire university community continues to reap rich dividends from these faculty members' collaborations, trans-institutional research and teaching, fulfilling the vision we set in the Academic Strategic Plan," Provost and Vice Chancellor for Academic Affairs Susan R. Wente said. "I know they will play a large role in contributing to the academic body of knowledge and furthering our One Vanderbilt mission."
The Chancellor Faculty Fellows program was launched in September 2014 under the Trans-Institutional Programs, or TIPs, initiative to support outstanding faculty who have recently received tenure. In its brief history, the program has notable success. Some highlights include:
Muktar Aliyu, associate professor of health policy and medicine and a 2015-2017 Chancellor Faculty Fellow, is a co-principal investigator on two new major NIH grants
Julián Hillyer, associate professor of biological sciences and a 2016-2018 Chancellor Faculty Fellow, was elected president of the American Society of Parasitologists. He is serving as vice president this academic year and will take the helm in 2019. In 2017, Hillyer was named the director of the A&S Program in Career Development.
Daniel Sharfstein, professor of law and a 2015-2017 Chancellor Faculty Fellow, released Thunder in the Mountains: Chief Joseph, Oliver Otis Howard and the Nez Perce War (W.W. Norton & Company, 2017).
Rachel Teukolsky, associate professor of English and a 2015-2017 Chancellor Faculty Fellow, received an NEH Summer Stipend in 2017 based on the strength of her book project, Picture World: The Aesthetic Life of Images in Britain's Machine Age.
Chancellor Faculty Fellow candidates are nominated by their deans and colleagues. The TIPs Council, which is co-chaired by Vice Provost for Academic and Strategic Affairs John Geer, Vice Provost for Research Padma Raghavan and Vanderbilt University Medical Center Executive Vice President for Research Jennifer Pietenpol, reviewed and made final recommendations on the many outstanding nominations received for the 2018 class.
"The Chancellor Faculty Fellows program continues to create unique and important synergies for scientific leaders from across the university and medical center to share ideas and partner in new ways," said Jeff Balser, president and CEO of Vanderbilt University Medical Center and dean of the Vanderbilt University School of Medicine. "The support they receive creates a forum for fellows to share academic interests with a diverse group of colleagues in a manner that enriches and advances their careers and Vanderbilt's future."
The 2018 Chancellor Faculty Fellows are:
Seth Bordenstein, associate professor of biological sciences and associate professor of pathology, microbiology and immunology
Craig Duvall, associate professor of biomedical engineering
Jason Grissom, associate professor of public policy and education and associate professor of political science
Anna Hemnes, associate professor of medicine
Bingshan Li, associate professor of molecular physiology and biophysics
Ebony McGee, associate professor of teaching and learning
Vesna Pavlovic, associate professor of art
Allison Schachter, associate professor of Jewish studies, associate professor of German, Russian and East European studies, and associate professor of English
Ganesh Sitaraman, professor of law
Jason Valentine, associate professor of mechanical engineering, associate professor of electrical engineering, and associate professor of physics
Digna Velez Edwards, associate professor of obstetrics and gynecology
David Weaver, associate professor of pharmacology