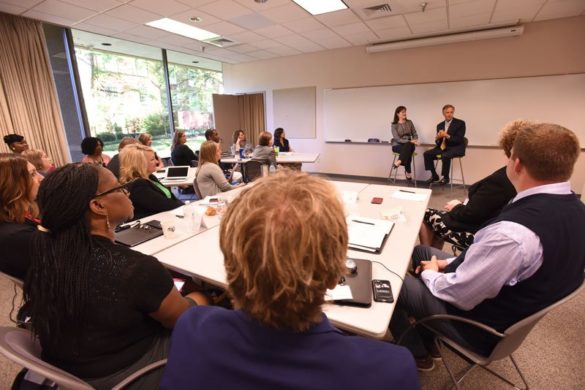 Tennessee Gov. Bill Haslam says he can tell within 20 minutes of visiting a school whether it has good leadership. "I passionately believe getting the right leader in the building is the most important thing we can do," he said in a recent address to the 2017 cohort of the Governor's Academy for School Leadership at Vanderbilt's Peabody College of education and human development.
The gathering was part of an intensive summer session that is part of a yearlong curriculum that prepares Tennessee assistant principals to advance to principal positions within their districts. GASL is a cooperative effort—now in its second year—of the Governor's Office, Tennessee Department of Education and Peabody. The cohort is composed of 24 fellows representing 21 districts across the state.
The June 13 visit included a discussion and Q&A session with Haslam and Tennessee Commissioner of Education Candice McQueen, who earned a master's in education at Peabody in 1998. The conversation ranged freely over topics like state education policies, work-life balance and personal reading habits. Throughout, Haslam stressed to the fellows how important it is for school leaders to engage deeply with the processes of education and to be in positive relationships with the students, parents and teachers who make up a school community.
Haslam said there is no one personality style required to be a great leader, but his own experiences suggest they tend to have several qualities. "(Leaders) fundamentally understand it's not about themselves," he said, "… The people I know who have accomplished a lot have a strong work ethic." He also stressed that effective leaders are objective focused, clear about their goals and use metrics to measure their progress.
As for work-life balance, Haslam offered a simple rule: "While you are at work, work." This resonated with GASL fellow David Ayers, currently an assistant elementary principal and athletic director in Lake County, Tennessee.
"So many of us go to work and just go through the motions," Ayers said. "To be effective and get those tasks accomplished, you have to work to get it done. As leaders, the only way to get productivity at a high level is to show your workers you are willing to work through adversity."
Haslam closed by offering his hopes for what fellows will take away from the GASL experience. "I really hope you'll go back and have the feeling I have right now about my job, which is 'I can't believe I get to do this, number one. Number two, I can't believe what a difference you can make. And number three, I don't want to waste the opportunity.'"
Hank Staggs, GASL's program director in the Tennessee Department of Education, said of the governor's visit: "It's very special to have him visit and personally speak with GASL fellows about leadership. It's been a highlight of the academy each year. We are very appreciative of the governor's support for education in Tennessee and his support for school leadership and the GASL program."
GASL fellows spend three days per month participating in professional development at Peabody with professors in the Department of Leadership, Policy and Organizations, and with highly effective principal mentors. Upon completion of the program, fellows are expected to pursue placement as a school principal within their district or region.
Asked what he would have liked to do had he not become a politician, Haslam acknowledged that he might have liked to become a teacher or a principal himself. "I fundamentally believe education really is the key to changing lives."
–Kurt Brobeck