When China native Cici Xuning Zhang first started searching for colleges, a university in Nashville, Tennessee—or even one in the United States—was far from her mind. Then an iconic image of Vanderbilt's Kirkland Hall popped up on her computer screen.
"I thought, 'This is amazing!'" Zhang recalled. "I started researching Vanderbilt, and I just knew that it was my fit."
Zhang reached out to Vanderbilt Admissions counselor Julie Chapman and was thrilled to get an email back right away. She said that Chapman helped her learn everything Vanderbilt had to offer.
"[rquote]The diversity, the academics and all of the different opportunities on campus really made me feel like (it was) the right place,"[/rquote] Zhang said. "My parents were nervous about me traveling to a completely new country, but I fell in love with Vanderbilt."
As a student, Zhang shared her Vanderbilt experiences with people back home by working in the Undergraduate Admissions office. She and other Chinese students manage Vanderbilt's official posts to China's unique social media networks. Zhang said it takes more than a "snap" to reach Chinese students online.
"I think a lot of American students don't know that Facebook, YouTube and Snapchat—all the social media platforms—are blocked in China, so I work with China's unique networks," she said. Zhang tailors her posts to a Chinese audience and shares what life is like in Nashville. Her work with Admissions has made a difference, with larger numbers of native Chinese students applying to Vanderbilt.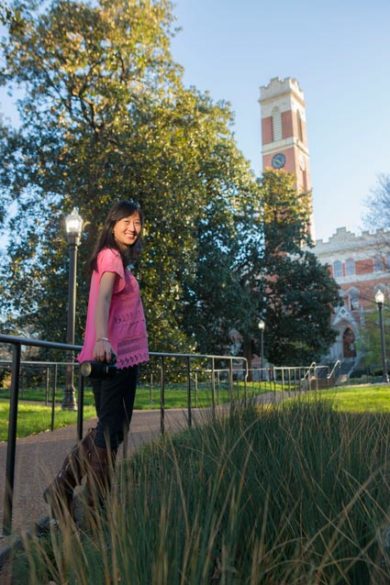 Zhang has found additional ways to serve as a cultural ambassador. Since 2015, she has been president of Dores to China, a student-run organization that supports Nashville families with adopted Chinese children. She's worked closely with Vanderbilt's International Student and Scholar Services as an international leader, and served as a member of the Office for Equity, Diversity and Inclusion's student advisory board. And she was vice president in 2015-16 of McTyeire International House, a living and learning community on campus.
Zhang, a child development major with minors in quantitative methods and human and organizational development, is equally passionate about the research she's done in the Vanderbilt Infant Learning Lab since her freshman year. Her honors thesis in part compares child-rearing practices in the United States and China and includes research she conducted at Beijing Normal University last summer.
"It's a cross-cultural study investigating the different parenting styles of how babies are held and how that affects their motor development," she explained. "Chinese parents are definitely more cautious of their babies' movements compared with American parents, and they are more likely to lay their babies flat on the ground rather than have them upright in bouncy seats."
Zhang said she loves her native China but plans to pursue a master's degree in international education in the United States.
"Vanderbilt truly has been my home away from home," she said.