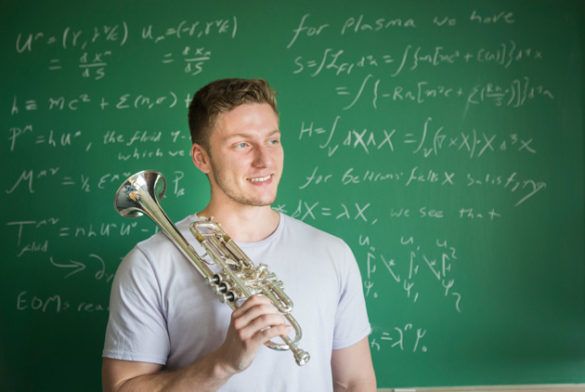 by Alexandra Valnoski
After hours of thinking about theoretical physics, senior Zachary Bednarke relaxes by playing his trumpet. While running through scales on the instrument, he is also, technically, still doing schoolwork.
Bednarke, a recipient of the Del Sawyer Trumpet Scholarship at the Blair School of Music, is also this year's recipient of the Underwood Award for the most outstanding graduating senior majoring in physics. He is the first Vanderbilt undergraduate to complete a double major in musical arts and physics.
"Zach Bednarke exemplifies the kind of multitalented student that Vanderbilt attracts, in part because we make it possible for undergraduates to study across our undergraduate colleges," Lauren Benton, dean of the College of Arts and Science and the Nelson O. Tyrone, Jr. Professor of History, said.
"This combination has never been completed in my 25 years at Vanderbilt and probably has never been done, ever, at Vanderbilt," said David Weintraub, professor of astronomy and director of undergraduate studies in the Department of Physics and Astronomy.
For Bednarke, choosing one of these courses of study over the other was not an option.
"In high school, I began to read books about physics around the same time I started playing the trumpet, and the two interests grew from hobbies to passions by the time I started to apply to universities," he explained. "[rquote]When my skills began to align with my passions, I knew that I could pull off this combination of majors despite the obstacles that would inevitably arise."[/rquote]
Bednarke reached beyond the requirements of the undergraduate physics major to complete five 8000-level graduate courses in physics, including two semesters of graduate quantum mechanics (most Ph.D. candidates take only the first semester); graduate statistical physics, which is part of the core curriculum for Ph.D. candidates; quantum field theory, typically taken by only a handful of Ph.D. students in their third or fourth year; and Gordon A. Cain University Professor John Wikswo's graduate biophysics seminar. Bednarke also undertook research in physics as part of the SyBBURE Searle Undergraduate Research Program, open to all Vanderbilt undergraduates.
"Zach was remarkable in his ability to move with ease through complex physics subject matter while taking graduate courses on relativistic hydrodynamics and systems-biology signaling networks," Wikswo said. "Equally important, he asked critical questions about the biology, to which he had little previous exposure. The ensuing discussions with his classmates led to a much better understanding by everyone. Zach's enthusiasm for science is contagious."
Bednarke pursued equally challenging courses—and committed to significant practice time—for his musical arts major. He credits Associate Professor of Trumpet Jose Sibaja with providing valuable mentorship and encouragement.
"Zach is a rare combination of reasoning and passion," Sibaja said. "The level of sacrifice and commitment that it takes to be successful at both majors has to be bigger than the passion and reasoning which fuels that same desire. I am so proud of Zach for conquering this incredible achievement."
In May, Bednarke will graduate and begin working toward a Ph.D. in physics at the University of Washington in Seattle. He hopes his achievements inspire other scholars passionate about both science and the arts.
"With the end of my college career in sight, I hope my experience guides younger students with similar dual interests," he said. "Although pursuing a double major in the seemingly disparate practices of music and science seems insurmountable, it is possible."