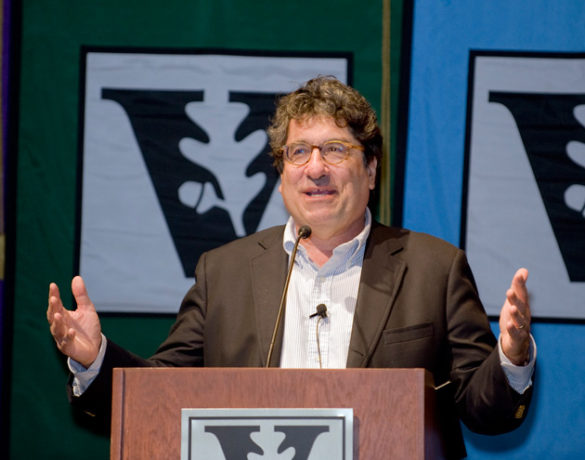 Colleges and universities across the nation are under attack in an era where research and discovery are devalued and success is defined in terms of dollars made, Chancellor Nicholas S. Zeppos said at the spring faculty assembly on April 6.
He pointed to federal budget proposals that slash funding for scientific research and eliminate support for the arts and humanities, and noted that these cuts reveal a dangerous current running through the country.
"The free movement of scholars and students across the globe is in jeopardy. 'Alternate facts' now have their day," Zeppos said. "[rquote]Of most concern to me is the incessant and indiscriminate carpet-bombing of institutions, especially universities. One does not need to be a professionally trained historian to see perils in these efforts to destroy those enduring institutions that are essential in civil society."[/rquote]
Read about the awards presented at the spring faculty assembly >>
Zeppos told the crowd of faculty and staff gathered in Langford Auditorium that the university's response would not be to cower, and he challenged the faculty to stay their course.
"As your chancellor, I will continue to fight tirelessly for our mission and values in these times of challenge," he said. "We must come together as a community of scholars engaged in the historic and essential role of the creation and dissemination of knowledge. It will be you—the faculty—through your actions, commitments and membership in this scholarly community who will serve as our greatest bulwark and our timeless foundation. It is the faculty of the university who must stand strong for what we believe in, and be a model of what is possible in human discourse and transformation through discovery and teaching."
In combating the tide of funding cuts and disdain for discovery, Zeppos warned the faculty to temper their responses and not abandon their core beliefs.
"[lquote]We must be the strongest proponents of academic freedom and debate, and embrace the very notion that someone else has a different idea and argument to which we should listen,"[/lquote] he said. "If we do not, we will fail, for we will simply replicate and give claim to our detractors about our methods and mission."
Zeppos pledged to continue to advocate for the public interest and invest in research and education. "If we change anything, it is to hasten the pace of our investments," he said.
Zeppos then gave details of his fall 2016 announcement to dedicate $300 million of the endowment to graduate education. Based on a soon-to-be-released report of an ad hoc faculty committee as well as school/college input, further planning will actively begin for four initiatives to launch over the next few years.
An endowment to create new graduate Ph.D. scholarships—the Russell Hamilton Scholars—in honor of former Graduate School Dean Russell Hamilton, a pioneering scholar of Spanish and Portuguese and Vanderbilt's first African American dean.
An endowed Hamilton Graduate Leadership Development Institute to enhance the quality of the graduate student experience and provide leadership training and career development for the university's diverse, global graduate students.
An endowment for a new uniquely Vanderbilt institute for global engagement and advanced studies, focused on supporting interdisciplinary and trans-institutional endeavors along with research and scholarship efforts for which the final design will be developed through faculty, staff and student working groups.
A matching endowment to create new endowed chairs and faculty fellows.
Zeppos also pledged to continue the university's commitment to building on its trans-institutional strengths, saying that Vanderbilt must begin planning for its next research and science building and also invest aggressively in the humanities.
"We will be a beacon for the humanities in all times, but particularly these times of challenge," he said.
In closing, the chancellor talked about growing up in the 1950s and '60s and hearing President John F. Kennedy saying "ask not what your country can do for you, ask what you can do for your country" as well as the warning of Walt Kelly's Pogo comic strip: "We have met the enemy, and he is us."
"We must be more Kennedy-esque and avoid the perils of Pogo," he said. "Let us all work together, through these times, and say, 'We will do so, and thus our best years are ahead.'"