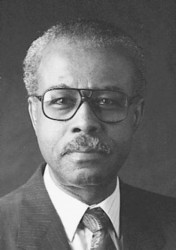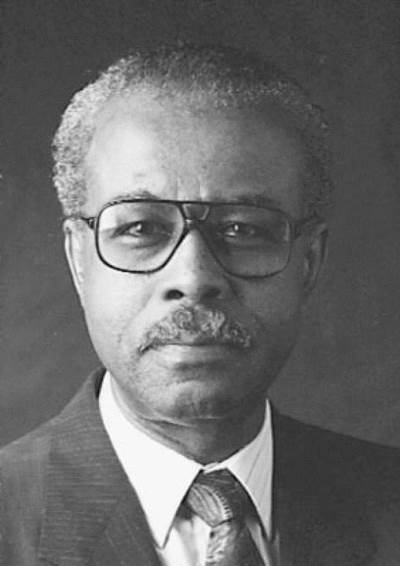 Russell G. Hamilton, the first African American dean of a Vanderbilt school or college, was remembered as "the epitome of a gentleman and a scholar." He died Feb. 27 in Minnesota, where he moved after his retirement. He was 81.
Hired by Vanderbilt in 1984 to lead the Graduate School as dean for graduate studies and research, he served in that capacity for 16 years. He continued on faculty as a professor of Spanish and Portuguese until he was awarded emeritus status in 2002.
During his term as dean, the university made strides in recruiting African American doctoral students and supporting them through the completion of their degrees. In the 1990s, he headed the university's Committee for Recruitment and Retention of Minority Faculty.
"Russell Hamilton was a true pioneer whose ability to bring people together to advance Vanderbilt's growth brought distinction to the university's academic mission and inspired us all," said Chancellor Nicholas S. Zeppos. "He was deeply respected and admired, and we can all learn a great deal from Dean Hamilton's legacy of recognizing and empowering his colleagues. His dedicated service as dean and transformative achievements paved the way for so many."
While he was Graduate School dean, the university added three Ph.D. programs, in anthropology, nursing science and the interdisciplinary neuroscience program.
A modest man, Hamilton shared credit for the accomplishments with his associates. "[lquote]If I've done one thing right, it is that I've made some good choices with respect to Graduate School administrators and staff.[/lquote] I've surrounded myself with good people and I inherited good people," he told the Vanderbilt Register in 1999.
Born in New Haven, Conn., he grew up in New England among the United States' largest Portuguese population. His father was a skilled chemical operator and his mother worked as a secretary.
"There was never any doubt in my mind (about going to college)," Hamilton told a reporter from the Nashville Banner in 1985. "I wanted to be a professor."
He earned a bachelor's degree from the University of Connecticut and a master's from the University of Wisconsin at Madison. He then studied in Brazil for two years before completing work on his Ph.D at Yale University.
Hamilton was hired by the University of Minnesota as an assistant professor in 1964 and eventually became a full professor and associate dean for faculty before moving to Vanderbilt.
As dean for graduate studies and research at Vanderbilt, Hamilton established the Graduate Student Travel grant program to help students with expenses when they traveled to present their research; initiated Graduate Student Research Day to give graduate students the opportunity to recognize the accomplishments of fellow students; expanded the Dissertation Enhancement Award with increased funding to add to student research resources; and increased the Honors Fellowship Program to help recruit the best applicants.
"I was privileged to work with Dean Hamilton for 16 years," said Marian McAlpin, an administrative assistant at the Graduate School at Vanderbilt. "[rquote]He was a gentle soul, compassionate, the perfect gentleman and scholar."[/rquote]
His son David Dean Hamilton called him a loving father and "a very generous mentor and colleague to the many academics he encountered and worked with."
A scholar of Portuguese language and Brazilian and Lusophone African literatures, the dean took particular joy in teaching and advising his graduate students, whom he frequently invited to his home for dinners prepared by his wife, Cherie Hamilton, an author of books on Portuguese and other international cuisine.
In addition to his Vanderbilt responsibilities, Hamilton served as chair of the board of the Council of Graduate Schools (CGS) and headed the CGS Task Force to examine the role and nature of the doctoral dissertation. He was also on the CGS Committee on Minorities, a member of the National Advisory Committee on the Compact for Faculty Diversity and the advisory board for the African Training for Leadership and Advanced Skills Project.
"Russell Hamilton was the epitome of a gentleman and a scholar," said Mouzon Siddiqi, program coordinator for the Graduate Program in Economic Development at Vanderbilt. "His mild manner and kind spirit filled his surroundings, making everyone around him feel at ease; his presence was calming. [lquote]He was a great listener and was truly interested in Vanderbilt's graduate students and their studies.[/lquote]"
Hamilton wrote two books, Literatura Africana, Literatura Necessária and Voices from an Empire: A History of Afro-Portuguese Literature. His awards include the Mary Cady Tew Prize for the most promising doctoral student in Romance languages at Yale; the Wilbur Lucius Cross Medal awarded to outstanding graduate alumni of Yale; and the Louise Williams Educational Service Award from the alumni association of the Dixwell Community House in New Haven, Conn.
Survivors include his wife, Cherie Yvonne Hamilton; daughters Cherie Andrea Hamilton and Melissa Elena Hamilton; sons Russell Malcolm Hamilton and David Dean Hamilton; a sister; 14 grandchildren; three great-grandchildren and many cousins, nieces and nephews.
Memorial donations may be made to the Vanderbilt Graduate Student Travel grant program.