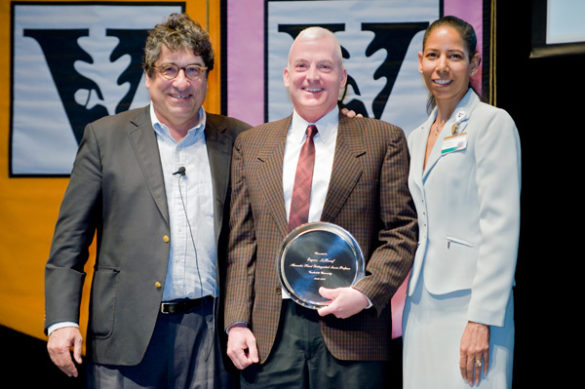 Chancellor Nicholas S. Zeppos honored six members of the Vanderbilt faculty during the Spring Faculty Assembly with awards recognizing their teaching, research and service.
"Connecting with colleagues and recognizing extraordinary achievement with faculty awards reveres our purpose and mission and the special nature of our scholarly work," Zeppos said.
Receiving awards during the April 6 ceremony at Langford Auditorium were:
LeBoeuf, professor of civil and environmental engineering and a brigadier general in the U.S. Army Reserves, was honored with the Alexander Heard Distinguished Service Professor Award for distinctive contributions to the understanding of problems of contemporary society. He has demonstrated the "importance of sustainability principles through service at Vanderbilt, throughout the scientific community and the nation," Zeppos said.
"Locally, Gene has provided leadership of the regional water resources planning commission for Franklin, Tennessee," the chancellor said. "Nationally he has addressed water resource issues through his research of thermal and hydroelectric power plants, and as brigadier general he has supported disaster recovery and peacekeeping interests around the world."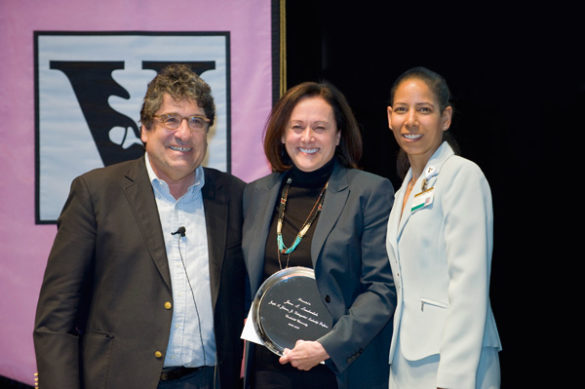 Lauderdale won the second Joseph A. Johnson, Jr. Distinguished Leadership Professor Award ever given. The honor recognizes faculty leadership in equity, diversity and inclusion in academic endeavors.
Lauderdale, assistant dean for the Office of Diversity and Inclusion in the School of Nursing, "is an energetic, influential, passionate advocate for equity, diversity and inclusion at local, national and international levels," Zeppos said. "Jana sets an admirable example in her leadership role in the Transcultural Nursing Society, whose mission is to enhance the quality of culturally congruent, competent and equitable care that results in improved health and well-being for people worldwide."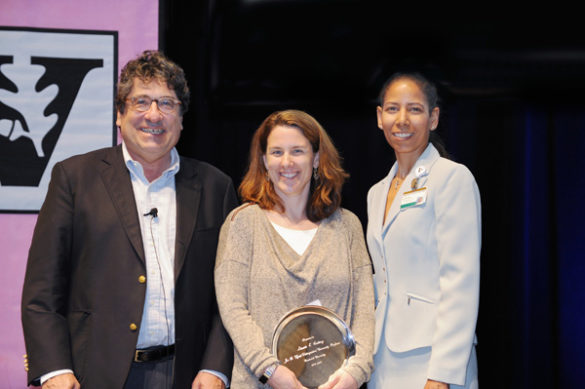 Cutting, holder of the Patricia and Rodes Hart Chair and professor of special education, psychology and pediatrics, won the Joe B. Wyatt Distinguished University Professor Award in recognition of accomplishments that bridge multiple academic disciplines and honor the development of significant new knowledge from research or exemplary innovations in teaching.
"Laurie uses neuroimaging to focus on brain-behavior relations in children and adolescents, with a particular emphasis on reading disabilities, language and executive function," Zeppos said. "(She) was instrumental in developing Vanderbilt's educational neuroscience doctoral program, the first of its kind in the United States."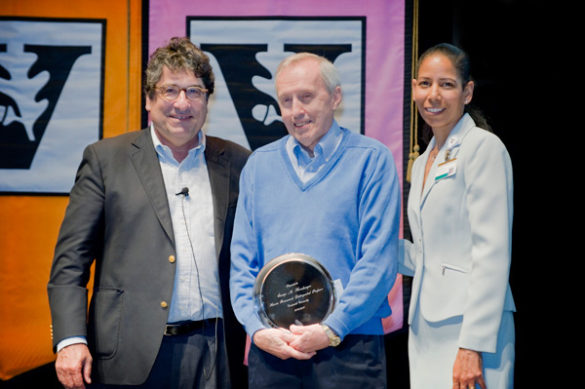 Hornberger, the University Distinguished Professor of Civil and Environmental Engineering and Earth and Environmental Sciences and holder of the Craig E. Philip Chair of Engineering, was recognized with the Harvie Branscomb Distinguished Professor Award for stimulating and inspiring teaching that results in learning of a high order, and service to students, colleagues and the university and society at large.
"George's scholarly and research achievements are world-renowned," Zeppos said. "With the National Academy of Engineering's declaration of access to clean water as one of its grand challenges as the world population approaches 9 billion over the next three decades, George has enlightened our understanding of linkages between water, energy and food over many years using a series of fundamental discoveries at the interface of hydrology and the bio-geo-chemical sciences."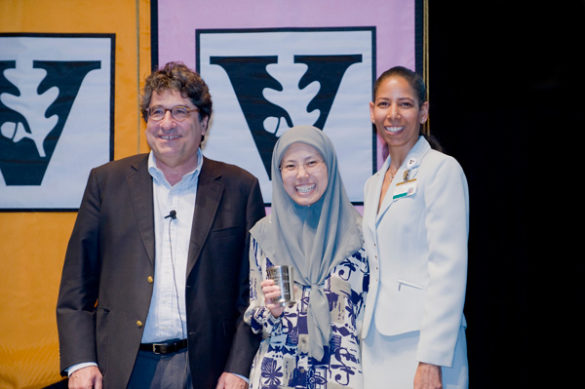 Tahir, assistant professor of the practice of civil and environmental engineering and recipient of the Ellen Gregg Ingalls Award for Excellence in Classroom Teaching, "has demonstrated an incredible commitment to her students, teaching them about engineering principles that extend far beyond the civil engineering discipline," Zeppos said. The Ellen Gregg Ingalls Award is endowed by The Louise H. and David S. Ingalls Foundation, Inc.

"Her faculty colleagues noted Mazita's high degree of creativity, passion and rigor in restructuring a fundamental engineering course and her role as a powerful advocate for emerging engineering students and as an ambassador for our Malaysian student population," Zeppos said.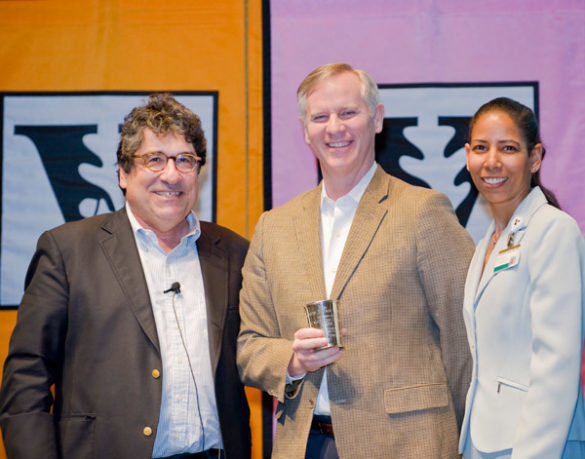 Van Schaack, principal senior lecturer in Peabody College's Department of Human and Organizational Development, is winner of the Madison Sarratt Prize for Excellence in Undergraduate Teaching. The award is decided by student ratings, outstanding efforts in classroom presentation, concern for student learning, and clarity and fairness in the criteria used for awarding grades.
"Andy's classes are among the largest at Peabody, and he is often cited for the high degree of effectiveness of his outstanding teaching," Zeppos said. "In sections with as many as 100 students, Andy finds the time to establish a personal rapport by learning each person's name early in the semester and by meeting with each one individually and repeatedly."
Each award comes with a $5,000 prize. In addition, Van Schaack and Tahir were awarded an engraved pewter cup. Hornberger, LeBoeuf, Cutting and Lauderdale received engraved silver trays.