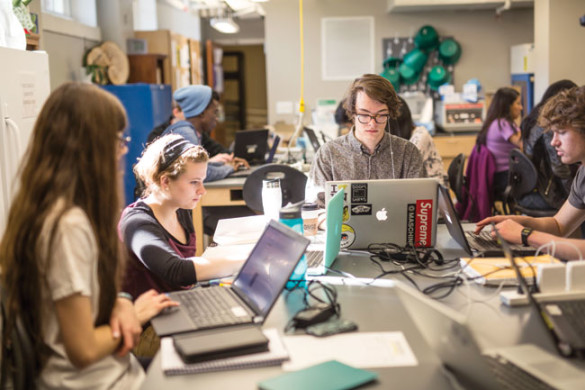 Three area high schools students were selected as semifinalists in the 2016 Siemens Competition in Math, Science and Technology, nation's premier research competition for high school students.
The students—all seniors in Metro Nashville Public Schools—were recognized for projects they completed as part of their participation in The School for Science and Math at Vanderbilt (SSMV), a program of Vanderbilt University's Peabody College of education and human development. High achieving students selected for SSMV attend instruction at Peabody's Wyatt Center one school day per week throughout high school, and conduct a final research project during their senior year.
The semifinalists are: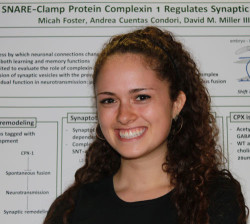 Micah Foster
Hume-Fogg Magnet High School
"The SNARE-Clamp Protein Complexin 1 Regulates Synaptic Remodeling"
Mentor: David Miller, Cell & Developmental Biology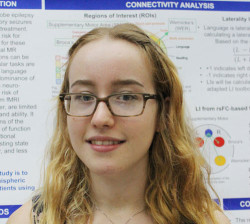 Alice Irizarry
Hillsboro High School
"Accuracy of Resting Functional MRI for Language Lateralization in Temporal Lobe Epilepsy"
Mentor: Victoria Morgan, Radiology & Radiological Sciences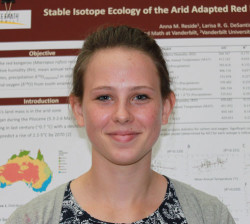 Anna Reside
Martin Luther King Jr. Magnet School
"Stable Isotope Ecology of the Arid Adapted Red Kangaroo (Macropus rufus)"
Mentor: Larisa DeSantis, Earth & Environmental Sciences
Foster, Irizarry and Reside are among five semifinalists from Tennessee. None advanced as finalists.
Nearly 1,600 projects were submitted to the Siemens competition this year, and 498 students from independent and team projects were selected as semifinalists nationwide.
SSMV students begin working hands-on with a Vanderbilt faculty member in their junior year to complete a research internship. While in the laboratory, students contribute to the scientific research goals of the professor through completion of an independent project. Students then present their research project in several formats and compete in several national science competitions.
More about SSMV
SSMV is a function of the Vanderbilt Center for Science Outreach in the Department of Teaching and Learning, under the direction of Virginia L. Shepherd. The program has received support from a National Institutes of Health NCRR Science Education Partnership Award, Metro Nashville Public Schools and other generous donors.
Read more about this program in the Peabody Reflector.
Program Contact:
Angela Eeds, (615) 322-7132
angela.eeds@vanderbilt.edu