Media Inquiries
Latest Stories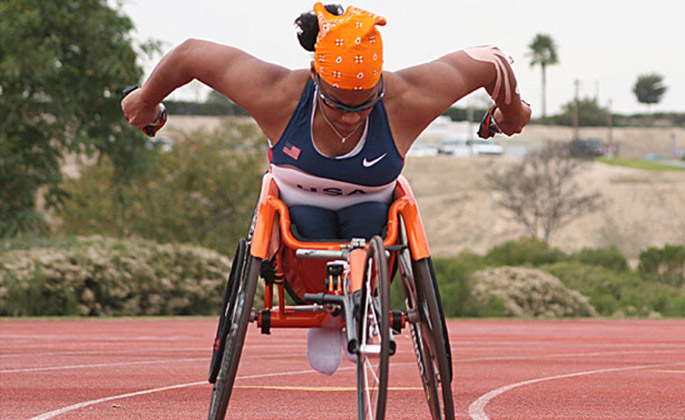 Vanderbilt professor, disability activist and two-time Paralympian Anjali Forber-Pratt has been awarded a $212,000 grant by the Christopher & Dana Reeve Foundation to evaluate the foundation's Paralysis Resource Center (PRC). The foundation is dedicated to improving the quality of life for people living with paralysis through grants, information and advocacy and funding innovative research related to spinal cord injury.
"I'm thrilled that my team and I were selected to do this important work," said Forber-Pratt. "My research aligns well with the mission of the foundation, and I sense a synergy among the foundation's work, my research and the rich history of the Kennedy Center and Peabody College in using research and evaluation to inform disability policy."
Forber-Pratt is an assistant professor of human and organizational development at Vanderbilt's Peabody College of education and human development, and a Vanderbilt Kennedy Center investigator. She was a member of Team USA at the 2008 and 2012 Paralympic Games as an elite wheelchair racer, winning two medals.
"We are so proud that Dr. Forber-Pratt was chosen to lead this important evaluation project," said Elise McMillan, co-director of the Vanderbilt Kennedy Center's University Center for Excellence in Developmental Disabilities. "The foundation encouraged UCEDDs to apply, respecting the network's expertise in disability public policy, programs and evaluation methodologies. Dr. Forber-Pratt is well-known for her national leadership in key policy issues."
Forber-Pratt's research agenda adopts a social-ecological framework and looks at issues surrounding identity, equity and empowerment for individuals who are different in some way, with a large focus on disability.
Carol Nixon, research assistant professor of human and organizational development, serves as co-investigator on the project. Nixon's research focuses on positive youth development, health promotion and K-12 school reform, particularly related to STEM education, social emotional learning and school climate improvement. She has extensive program evaluation experience across education, health and community settings.
"We are really looking forward to working with Anjali and her team to help the PRC evaluate its impact on the community we serve," said Maggie Goldberg, vice president of policy and programs for the foundation. "Vanderbilt will help us strengthen our outreach and programmatic efforts to people with paralysis and their families, as well as educate and inform the broader public."
The Christopher & Dana Reeve Foundation issued a nationwide call for a rigorous evaluation program that would be carried out as a collaborative partnership between the evaluation team and the PRC staff. Forber-Pratt was selected and the consultation agreement began Sept. 12. It will be reviewed on an annual basis, renewable through May 2018.