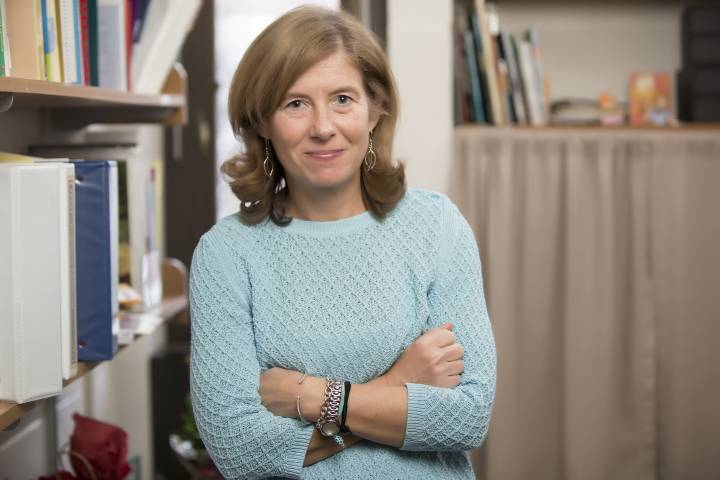 A Vanderbilt study may have clues to solving America's high preschool expulsion rate. National studies show that preschool-age children are expelled for behavior problems at three times the rate of school-age children.
"It's troubling to think that we're expelling children from preschool because they don't know how to get along with others, when preschool is the place where they're going to learn those friendship skills," said Mary Louise Hemmeter, professor of special education at Vanderbilt's Peabody College of education and human development and Vanderbilt Kennedy Center investigator.
Hemmeter is one of the developers of the nationally recognized Pyramid Model, a positive behavior support approach for developing young children's social-emotional competence in the classroom, and preventing and addressing challenging behaviors.
Her recent study, "Evaluating the Implementation of the Pyramid Model for Promoting Social-Emotional Competence in Early Childhood Classrooms," is the first to examine a classroom-wide implementation of the model. Full results were published in the September issue of Topics in Early Childhood Special Education.
For the research, Hemmeter examined the effects of the Pyramid Model in a study with 494 students and 40 early education teachers in public school early childhood classrooms. She compared the efficacy of the model in classrooms where teachers received professional development, including coaching, to implement the practices, compared to those who implemented the practices on their own.
Teachers who received coaching and other professional development supports were found to have implemented 69.9 percent of the practices, whereas teachers in the control condition implemented only 44.2 percent of these practices. Teachers in the group that received coaching shared that their students had fewer problem behaviors and stronger social skills, and took more ownership of the classroom. They also reported that the practices helped them communicate more effectively with children, be more patient and be a better teacher.
"Children are getting expelled for doing things that young children do, like biting and hitting and taking toys and being aggressive," Hemmeter said. "Many children are going to do that unless we teach them what to do instead. Our work is focused on promoting social-emotional competence as a way of preventing problem behavior and ultimately as a way of preventing expulsions and suspensions of young children. It's important for programs to support teachers in carrying out effective practices that help children learn social skills and reduce problem behavior."
The data provide promising evidence that the combination of high-quality training, and implementation guides and materials, along with practice-based coaching focused on the Pyramid Model practices, contributed significantly to the teachers' successes in reducing problem behaviors in their classrooms.
In August, USED and HHS announced a $1 million grant to support Cambridge Early Learning Center in Antioch, Tennessee, and Clifton Early Learner Academy in Clifton, New Jersey, as national models to address issues related to preschool suspensions and expulsions by instituting the Pyramid Model program-wide with a focus on culturally responsive practices. It is a collaboration with University of South Florida, University of Colorado-Denver and University of Oregon.
Hemmeter's collaborators on the Pyramid Model study were University of Florida's Patricia A. Snyder and James Algina; and Lise Fox of University of South Florida. The research was funded by the Institute of Education Sciences.