Media Inquiries
Latest Stories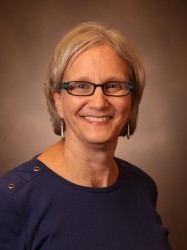 The University Council for Educational Administration (UCEA) has selected Vanderbilt researcher Ellen Goldring to receive its prestigious Roald F. Campbell Lifetime Achievement Award for 2016.
Goldring is the Patricia and Rodes Hart Professor of Education Policy and Leadership at Vanderbilt's Peabody College of education and human development. She serves as chair of the Department of Leadership, Policy and Organizations.
"Throughout her career, Ellen Goldring has influenced the practice of K-12 education through her scholarship on school leadership," Camilla P. Benbow, Patricia and Rodes Hart Dean of Education and Human Development at Peabody, said. "By helping principals use data to improve instruction, evaluate performance, and strengthen school-community relations, she has helped make countless schools and education leaders more effective."
Goldring received her Ph.D. at the University of Chicago and came to Vanderbilt in 1991. Her career's focus is school leadership practice and the implementation of professional development, coaching and performance feedback. She has been honored for her contributions to the field, including Vanderbilt's esteemed Alexander Heard Distinguished professor award.
"Like Roald Campbell, Dr. Goldring has maintained a strong contribution to educational leadership, research and policy, and made an indelible mark on the field," the 2016 Roald F. Campbell Lifetime Achievement Award Selection Committee said. "Her abundant publications, federal and foundation grants, and national and international awards, along with her mentorship of some of the most outstanding scholars of the field, make her a most fitting recipient of this recognition. Most importantly, the UCEA community has benefited from her deep expertise and involvement in the organization."
Goldring is a fellow of the American Educational Research Association, and was vice president of the organization's policy and politics division. She designed and implemented the Governor's Academy of School Leadership in partnership with the Tennessee governor's office and the State of Tennessee, and is the principal investigator of the Wallace Foundation sponsored Evaluation and Analysis of the Principal Supervisor Initiative.
She appears on the Edu-Scholar Public Presence Rankings for the top 200 university-based scholars who shape public discussions of education. She is author or co-author of hundreds of articles and book chapters, and seven books including Principals of Dynamic Schools, School Choice in Urban America, and Successful Schools and the Community Relationship.
"Ellen's vision is broad, incorporating schooling—not only in the U.S. but internationally," Benbow said. "She has been a powerful advocate for change in the way higher education institutions prepare school leaders through their education doctorate programs. Her impact on the field has been wide and sustained. She is highly deserving of this recognition, and we are proud to see her honored."
The 2016 Roald F. Campbell Lifetime Achievement Award will be presented to Goldring during the 30th annual UCEA Convention in Detroit in November.
About the Roald F. Campbell Lifetime Achievement Award
Roald F. Campbell Lifetime Achievement Award was instituted by the University Council for Educational Administration in 1992 for the purpose of recognizing senior professors in the field of educational administration whose professional lives have been characterized by extraordinary commitment, excellence, leadership, productivity, generosity and service. At the same time, the award celebrates the remarkable pioneering life of Roald F. Campbell, whose distinguished career spanned many years and exemplified these characteristics. The award consists of a unique bronze eagle presented at the UCEA Convention.