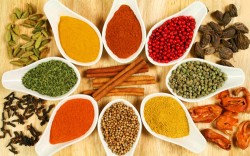 The Vanderbilt Recreation and Wellness Center and Health Plus will present "Vandy Cooks with Kalyani and Venkataraman Amarnath" from noon to 1 p.m. Wednesday, June 8, in the VRWC demonstration kitchen.
Love Indian cuisine, but think it's too difficult to prepare? Join Kalyani and Venkataraman Amarnath as they share native recipes chosen for ease of preparation as well as delicious taste. At this session, receive tips on Indian spices and the best places to purchase recipe ingredients in the Nashville area.
The Amarnaths, both researchers at Vanderbilt University Medical Center, are from Tamil Nadu, India.
Vandy Cooks is sponsored monthly through a partnership among the Vanderbilt Recreation and Wellness Center, Health Plus and a number of local food experts.
Contact: Marilyn Holmes, (615) 343-2638
marilyn.c.holmes@vanderbilt.edu