Researchers' findings enhance culture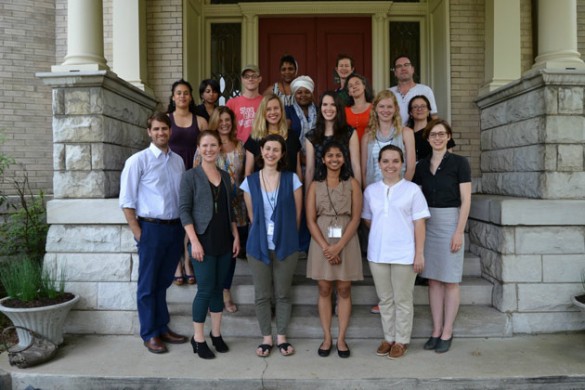 Developing an interactive game to help Sri Lanka farmers dealing with climate change, compiling an "alternative" guide to Nashville's people and places, and creating an accessibility map of the Vanderbilt campus through participatory research are some of the ways the 2015-16 Curb Public Scholars put their findings into action.
Other projects have focused on bridging neuroscience and music education, working to reduce bullying through prosocial messaging in children's media and music, and evaluating spoken word poetry programs that foster students' social-emotional learning. One of the public scholars created a digital map of the island of Hispaniola that she will use in teaching historical novels to Dominican and Haitian high school girls this summer. In addition, a Curb Center creative writing fellow has led an expressive writing workshop for those impacted by cancer.
"The two-year-old Curb Public Scholars program is a research and collaboration opportunity designed to support faculty and graduate students as they put their work in arts, culture and policy into solving real-world problems," according to Jay Clayton, director of the Curb Center for Art, Enterprise and Public Policy and William R. Kenan Professor of English.
Putting projects into practice
Thushara Gunda, a doctoral candidate in environmental engineering, said that her Curb project—using game theory to promote and understand farmers' decisions in Sri Lanka—has become an integral part of her dissertation.
"On the front end, I knew that the public scholars grant could help my team share research on climate change and water use with the farmers," said Gunda, who is also a fellow of the Vanderbilt Center for Energy and the Environment. "However, the Curb support helped me think more deeply about my audience—the farmers—and whether game theory might be a good fit to them."
Gunda' research is also supported by a Vanderbilt Dissertation Enhancement Grant and two grants from the National Science Foundation. The game she and her team developed was so successful that they have shared it with other Sri Lankan agencies that want to use the framework for their own research.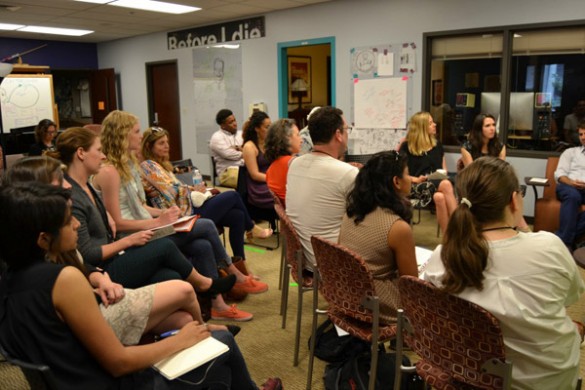 Another product created by Curb Public Scholars, the album "Join In The Song," has been described as a "unique venture at the intersection of music and child development research" by Sara Beck and Colleen Russo, doctoral candidates in developmental psychology. Russo is a National Science Foundation graduate student fellow, and Beck is both a professional musician and a doctoral candidate. The album was inspired by the Children's Kindness Network, a nonprofit dedicated to stopping bullying before it begins.
"The goal was to create an album of songs about kindness to self, others, animals and the earth, presenting it in a way to get kids moving together," Beck said. "Research suggests that moving together to music increases trust and feelings of affiliation." Beck's research looks at how children's social behavior is impacted by singing and moving together and how prosocial lyrics in songs affect children's behavior.
"We hope that families and educators will use the songs as starting points for conversations about kindness," Russo said. "Help children understand the meaning of the messages and how they apply to everyday situations."
Russo's overall research focuses on children and media; specifically, how do interactive technology and video chat affect young children's cognitive development and symbolic representation? The voices of several Nashville musicians as well as area children are featured on the album, which can be downloaded for free.
Campus and community collaborations
Iliza Butera, a doctoral candidate in neuroscience, conducted another project that is related to music and education. She explored ways scientists can communicate the latest music cognition research to music teachers.
"Many times teachers do not have easy access to this information, or even if they do, it's written for an academic audience," Butera said. "Scientists continue to learn more all the time about the effects of musical training on childhood development, but the information needs to be translated to the people who can use it in the real world."
Butera said that her Curb experience has taught her the tremendous benefits of collaboration across different fields. "I think the real draw for me is that I want to get other perspectives from people all over campus, and the Curb Center has helped me meet people and share ideas from different disciplines across campus."
Amie Thurber views the project that she and James Fraser have launched in conjunction with Learotha Williams as "less about research and more of an intervention into a city that is changing really fast."
Thurber, a doctoral candidate in Community Research and Action, which is housed within Peabody College's Department of Human and Organizational Development; James Fraser, associate professor of human and organizational development; and Williams, an assistant professor of African American and public history at Tennessee State University, serve as co-editors of A People's Guide to Nashville. It's an alternative city guide celebrating people and places too often veiled, forgotten or ignored.
"In the past, the narrative about Nashville has been told by a very small number of people, and the People's Guide is a chance to really broaden the voices that are being heard right now," Thurber said. The co-editors have been partnering with neighborhood associations and community organizations to develop entries about Nashville's social, cultural, political and economic movements.
"To have a space at the Curb Center to meet with other people and learn about other projects that are straddling the 'academic fence' has been wonderful," Fraser said.
The inaugural Accessibility Map-a-Thon, led by Aimi Hamraie, assistant professor of medicine, health and society and American studies, also has a strong component of participatory research. Students, staff and faculty came together April 8 for a day of collecting data about what accessibility looks like at Vanderbilt.
The project began when Hamraie was bringing a speaker to campus to talk about disability and technology. "We wanted to make sure disabled people had access to the event, but it turned out that our campus doesn't have any maps for accessible parking for visitors," Hamraie said. "By the time this project is completed, there will be an intersectional campus map with layers that provide information about wheelchair access, all-gender bathrooms, lactation spaces and other resources that have not been widely publicized."
Informing pedagogy
Robert Marx's Curb project focused on spoken word poetry in English language arts classrooms—both in Nashville's high schools and in New York City. Marx, who is a doctoral student in Community, Research and Action, crafted his project as an offshoot of his work as a research assistant on a program evaluation led by Carol Nixon of Southern Word. a Nashville-based poetry nonprofit in Nashville public schools.
Marx worked with Nixon, English language arts teachers and Southern Word to develop and implement pilot evaluations of students before and after the organization's work in the schools. "Our research has centered on understanding student and teacher experiences with spoken word poetry," Marx said. "This included conducting interviews with teachers and focus groups with students who have gone through the program. We want to help Southern Word have a better understanding of its impact and also the language to describe how it's making a difference."
During the evaluations, many students said the spoken word poetry helped them feel better about themselves. Meanwhile, some teachers talked about learning new pedagogical techniques. "I found many advocates for Southern Word in the schools, and the more information these advocates can be armed with, the easier it will be to improve classroom learning," Marx said.
Megan Jeanette Myers, a doctoral candidate in Spanish and Portuguese, created a digital map of the island of Hispaniola that can plot certain points emphasized in a novel she has analyzed for her dissertation. Now she will include a digital mapping component in the three literature classes she teaches for Dominican and Haitian high school girls this summer.
"The Curb project allowed me to approach this specific novel in a new way and see patterns that I would not have noticed had I not created a map," Myers said. "I believe that literature provides us with new ways to interpret historical events. This is certainly the case with the Dominican Republic and Haiti and the history of brutal dictatorships, border policies, invasions and more there." Myers credits her Curb scholarship with helping her stay grounded in the community to think beyond the academic goals of her dissertation research.
Healing through creative expression
For the past three years, the Creative Writing Fellow's project has included a collaboration with the Vanderbilt-Ingram Cancer Center. Anna Silverstein, who is a candidate in the MFA Program in Creative Writing, led expressive writing workshops open to all those who have been affected by cancer.
"Many cancer survivors feel like there is one dominant narrative in our society about how to speak about cancer," Silverstein said. "These workshops gave participants permission to write the stories that are true to their own experiences. Some members reported that the workshops gave them the confidence to submit their stories, essays and poems to journals, and the group saw a number of publications this year."
The following students have been named 2016-17 Curb Public Scholars: Tristan Call, Mariann J. VanDevere, Stacy Houston II and Rachel McKane of the College of Arts and Science; Jyoti Gupta and Megan Wonkamalasai of Peabody College of education and human development; Leah Lomotey-Nakon of the Divinity School and Peabody College; and Chelsea Peters of the School of Engineering.
Anna Guengerich, research assistant professor of anthropology, and Ana Christina da Silva, professor of the practice of elective learning, have also been named 2016-17 Curb Public Scholars.
For more information, email Elizabeth Meadows.