Media Inquiries
Latest Stories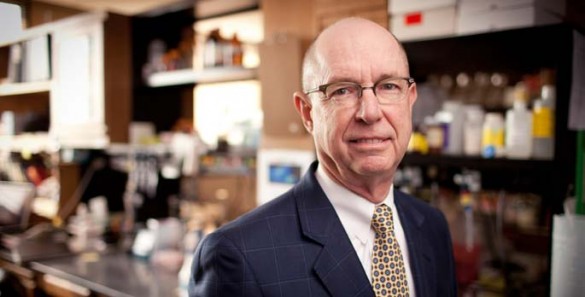 Provost and Vice Chancellor for Academic Affairs Susan R. Wente announced today that Lawrence J. Marnett will be named dean of basic sciences in the Vanderbilt University School of Medicine at the time of the legal separation of the university and Vanderbilt University Medical Center. Marnett is University Professor of Biochemistry, Chemistry and Pharmacology and Mary Geddes Stahlman Professor of Cancer Research.
"Our research and teaching in the basic sciences are engines of discovery and a critical part of our ability to have a significant positive impact on improving the human condition," Chancellor Nicholas S. Zeppos said. "[rquote]We are fortunate to have a leader with Dr. Marnett's vision, experience and vast research knowledge leading our work in this critical area as we take the next step forward as a university."[/rquote]
In his new role, Marnett will lead the School of Medicine's basic science departments, which are Cell and Developmental Biology, Cancer Biology, Molecular Physiology and Biophysics, Pharmacology, and Biochemistry and its associated basic science centers, institutes and programs.
"Larry has been an essential partner in the implementation of the Academic Strategic Plan, and I appreciate his willingness to serve in this important new leadership role for the university. His expertise and understanding will ensure that our basic science departments, centers, institutes and programs continue to thrive and grow," Wente said. "Larry also has a deep commitment to mentoring and supporting students and will work closely with the dean of the Graduate School, Mark Wallace, to ensure excellence and advances in biomedical graduate education."
After the legal separation, Marnett will report directly to the provost and will consult with the dean of the School of Medicine, Jeff Balser. He also will work closely with all university deans and vice provosts, particularly Vice Provost for Research Padma Raghavan, to coordinate research operations and initiatives.
"Dr. Marnett's deep institutional knowledge and longstanding role as research leader in the Medical Center affords a great advantage for strengthening collaborations across VU and VUMC at this important time in our future," Balser said. "I look forward to working with him in this new role."
Marnett has extensive experience as a research leader. He served as associate director of basic research of the Vanderbilt-Ingram Cancer Center from 1993 to 2002 and became director of the Vanderbilt Institute of Chemical Biology in 2002. He was named associate vice chancellor for research and senior associate dean for biomedical sciences for the Vanderbilt University Medical Center in 2014.
As associate vice chancellor, Marnett supported the operations and strategic development of basic sciences throughout the Medical Center, including its many programs in basic sciences education. In coordination with the Office of the Provost, he also supported cross-institutional collaboration for shared institutes and centers. He was broadly responsible for promoting research discoveries, providing the infrastructure necessary to advance the research enterprise and strategic planning for the Medical Center and joint university basic science research and educational programs.
As senior associate dean of biomedical sciences, Marnett led basic science education and postdoctorate training for more than 600 graduate students, more than 500 postdoctoral fellows and shared oversight for several trans-institutional graduate programs.
Marnett also plays a critical role in the implementation of the Academic Strategic Plan, including co-chairing the Trans-Institutional Program Council with Vice Provost for Academic and Strategic Affairs John Geer.
"[lquote]I look forward to continuing to work with the faculty, students and staff in the basic sciences, whose work gets to the heart of some of the most important problems and needs facing our society," Marnett said.[/lquote] "I'm also looking forward to the opportunities that this new role brings for even more collaboration and cross-disciplinary teaching and research across the School of Medicine and with other university schools and faculty."
In addition to his leadership responsibilities, Marnett is a highly distinguished cancer researcher. He directs the A.B. Hancock Jr. Memorial Laboratory for Cancer Research, which focuses on the causes of cancer and on the development of novel agents for cancer prevention and treatment. His research program focuses on the role of the enzyme cyclooxygenase-2 in cancer and inflammation as well as on the contribution of normal metabolism to the generation of DNA damage and mutation. His group has used structure-based approaches in conjunction with medicinal chemistry to design selective cyclooxygenase-2 inhibitors as potential anti-inflammatory, cancer-preventive and anti-angiogenic agents.
Included in the awards Marnett has received are the Wayne State University President's Award for Excellence in Teaching, the American Cancer Society Faculty Research Award, the Sigma Xi Research Award, the Michigan Association of Governing Boards Distinguished Faculty Award, the Wayne State University Distinguished Graduate Faculty Award, an Outstanding Investigator Award from the National Cancer Institute, the Harvey Branscomb Distinguished Professorship, the Stanley Cohen Prize at Vanderbilt University, a MERIT Award from the National Cancer Institute, the Founders Award of the American Chemical Society Division of Chemical Toxicology, and the George and Christine Sosnovsky Award for Cancer Research from the American Chemical Society.
Marnett is a fellow of the American Association for the Advancement of Science, the American Chemical Society and the Society for Redox Biology and Medicine. He is the author of more than 500 research publications and 14 patents and was the founding editor in chief of the American Chemical Society journal, Chemical Research in Toxicology, a position he held for 25 years.
Marnett received his Ph.D. in chemistry from Duke University and did postdoctoral work at the Karolinska Institute and Wayne State University. He began his academic career at Wayne State University, where he was professor of chemistry, before joining Vanderbilt in 1989.