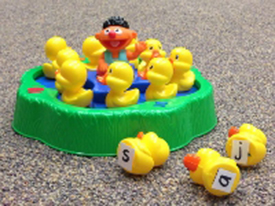 When it comes to teaching toddlers, there's no such thing as one size fits all. Giving children a choice in how they learn can help educators identify what method works best for each child.
Working one-on-one with 3- to 5-year-olds in an independent study at the Susan Gray School at Vanderbilt University's Peabody College, Professor Jennifer Ledford and three of her master's degree students explored whether young children preferred embedded or massed-trial instruction, which approach proved more efficient, and how instructional preference affected learning. In embedded instruction, teaching was part of play. In massed trial, children received instruction before they played with the games.
"There are several successful instruction strategies available," says Ledford, assistant professor of special education at Peabody. "If they all work equally well, what we should probably do is let kids tell us how they want us to interact with them. Essentially, we're asking children how they'd like to be taught."
According to Ledford, many educators believe children prefer embedded instruction because they are taught while they play. But her team's results suggest that children might prefer what they do best, and that varies. Of the preschoolers included in the trial, half learned more quickly with embedded instruction, and half learned better with massed. But all of the children tended to prefer the method they excelled in.
Both the games and the skills taught were individually determined. Some of the 5-year-olds about to enter kindergarten needed help with letter sounds. A 3-year-old might have difficulty identifying shapes. One boy with autism did well academically yet had trouble identifying peers' photographs.
Sessions alternated between allowing each child to choose one approach one day and being taught with the second method the following day. For example, a child having difficulty with letter sounds might choose to have letters on the game pieces on Monday, an instance of embedded instruction. On Tuesday, she would have flash-card instruction for a few minutes before playing the game, a form of massed-trial instruction.
"Our data suggest that kids prefer to learn faster, to learn more efficiently," Ledford says. "That has been really interesting. Two of the students started out picking one approach, but once they started performing better in the other, they began choosing that one. That probably speaks to the fact that even 3-year-olds understand when they're unsuccessful. So, minimizing that lack of success is important and potentially helpful for teachers in designing instruction."
Ledford's graduate students carried out the trials, helped fine tune the sessions, and are her co-authors for a not-yet-published article about the study's results.
"Working on the embedded-massed instruction study was a great experience as a student and professional," says master's student Chelle Harbin. "It became apparent that no child was going to be the same. I learned that a little attention to detail goes a long way when working with preschoolers. Although the children learned at their own pace and with individualized accommodations, it was also important to see that the same general teaching framework was effective in teaching all of our children a variety of skills.
"Professor Ledford does a phenomenal job balancing advising us and allowing her students to bring their own ideas to the table. She has a let's-try-it! attitude that encourages dynamic conversation and problem solving and, therefore, excellent research experiences."
For the 12 students involved in the massed-embedded comparison, 7 did not have disabilities, and 5 did. Those with disabilities included the child with autism, one with Prader-Willi syndrome, and one with a seizure disorder.
"We have a mixed pot of children, which I wanted for this study," Ledford says. "I don't want to know just about kids with disabilities because children with and without disabilities are in classrooms together. More and more frequently, children with disabilities are in inclusive settings. I think it's important to know about how all children learn."