Media Inquiries
Latest Stories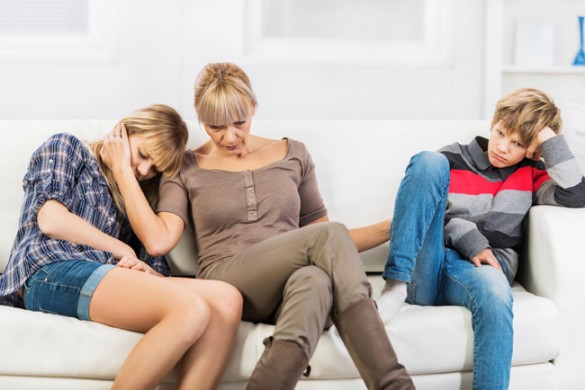 An estimated 16 percent of people in the U.S. will experience depression at some point in their lives. For children of depressed parents, that statistic more than doubles. Depression clearly runs in the family—but it may be preventable. A Vanderbilt University study is showing that early intervention may be the key to stopping the cycle and preventing depression in at-risk children and adolescents.
"Depression manifests in many ways," said Bruce Compas, co-lead investigator of the study, Helping Families Cope With Stress – Family Depression Prevention Project. "A mother may be too sad to get out of bed and make breakfast for her kids, or a father may be shut down and emotionally unavailable. Depression can show up as irritability or having a short temper. All of these things put stress on the child, who may not get the care they need and they become prone to depression as a result. But that doesn't have to be how the story ends."
Compas is a Patricia and Rodes Hart Professor of Psychology and Human Development at Vanderbilt's Peabody College of education and human development, and professor of pediatrics at Vanderbilt. He has spent several decades studying depression in parents and youth, as well as stress and coping in families of children and adolescents with life-threatening illnesses.
Helping Families Cope With Stress – Family Depression Prevention Project is a five-year, two-site randomized study funded by the National Institutes of Health. Co-lead investigator is Judy Garber, professor of psychology and human development, psychology, and psychiatry at Vanderbilt. Garber has led several multi-site, nationally-funded studies of risk and prevention of depression in youth.
Garber and Compas lead the study, the first of its kind to implement and test an intervention that targets both the depressed parent and their offspring. "Understanding and addressing the effects of a parent's depression on the family may be one of the keys to curbing the 'passing down' of depression from parents to children," Garber said.
"We often hear people say, 'Oh, my mother was depressed, I got it from her,'" Compas said. "But what we want them to understand is that it is not inevitable. Often it's a behavioral issue—it's as much or more a function of stress in the family that is associated with depression. Through this study, we are seeing parents modify their behaviors so that they can be present for their children. We are seeing children empowered to enjoy their lives and cope with whatever stressors come their way."
The interventions in the study involve either weekly and monthly group sessions with trained psychologists, or an educational program that families complete at their own pace, which aims to help parents and children understand depression and its effects on families.
In the group sessions, parents are taught how to "parent through" their depression. Children are taught to manage stress, develop adaptive coping skills, and understand that their parent's depression is not their fault or their responsibility to fix. Previous studies have shown that depression can be reduced in children of depressed parents by as much as one half.
"Depression doesn't have to be passed down generation to generation," Compas said. "When parents and children are given the tools to deal with depression as a family, its effects can be mitigated. We are seeing significant successes so far, and it's encouraging to see that depression doesn't always win."
The study is seeking families to enroll. Take the online confidential survey and answer some questions to see if your family may be eligible.
For more information, email familycoping@gmail.com or call (615) 450-0326.