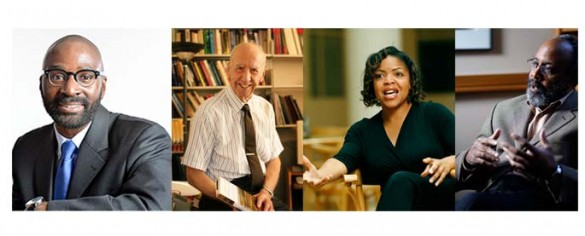 "A Conversation on Symbolism, History and Diversity" will take place Sept. 21 at Peabody College of education and human development.
Camilla Benbow, Patricia and Rodes Hart Dean of Education and Human Development, will host an interdisciplinary panel discussion, which came about as the summer of 2015 was marked by protests over Confederate symbolism, compounded by concerns over micro-aggressions and free speech on college campuses.
"We want to give our students and the rest of the Vanderbilt community an opportunity to address these so-called 'third rail' topics in a frank and open conversation," Benbow said.
The discussion takes place 3-4:30 p.m. in the Wyatt Center Rotunda.
The panelists are:
Paul K. Conkin, Distinguished Professor Emeritus, history, at Vanderbilt University, and author of Peabody College: From a Frontier Academy to the Frontiers of Teaching and Learning (Vanderbilt University Press/2002);
John L. Jackson Jr., dean of the School of Social Policy and Practice at the University of Pennsylvania, and co-author of Impolite Conversations: On Race, Politics, Sex, Money and Religion (Atri Books/2014);
Ebony O. McGee, assistant professor of education, diversity and urban schooling; and
Lucius T. Outlaw Jr., professor of philosophy, Vanderbilt University.
The moderator will be Christopher Loss, associate professor of public policy and higher education and associate professor of history.
Questions for the panelists may be submitted in advance via Twitter using the hashtag #PeabodyDiversity.