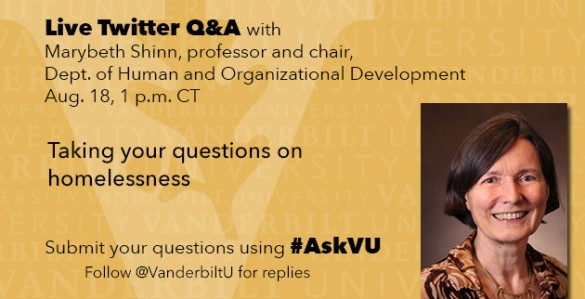 Vanderbilt University researcher Marybeth Shinn will be available on Twitter Aug. 18, 1-2 p.m. (CDT), to answer questions about homelessness during a special #AskVU event.
Shinn is professor and chair of the Department of Human and Organizational Development at Vanderbilt's Peabody College of education and human development. She has studied homeless assistance programs for more than 30 years. She recently served as co-lead investigator on the Family Options Study, an 18-month collaborative evaluation of federal homeless housing programs, conducted for the U.S. Department of Housing and Urban Development.
After analyzing the effectiveness of housing and services interventions for more than 2,000 families in 12 communities, she found that subsidized housing vouchers have been more effective in curbing the homelessness cycle than other programs. The study has important policy implications locally and nationally.
Questions for Shinn can be tweeted in advance or during the event using the hashtag #AskVU. The event can be read live on Twitter on Aug. 18 by following @VanderbiltU.
Shinn presented her findings at the HUD headquarters in July, and will host a forum and dialogue with Nashville's homeless services community Aug. 21, at 9 a.m., at the Nashville Public Library downtown. Read more: Find out which homeless housing programs actually work at Aug. 21 forum »
The Q&A on homelessness is the third in Vanderbilt's Twitter series #AskVU, in which Vanderbilt experts on a variety of topics are available to answer questions from the public via Vanderbilt's Twitter account.