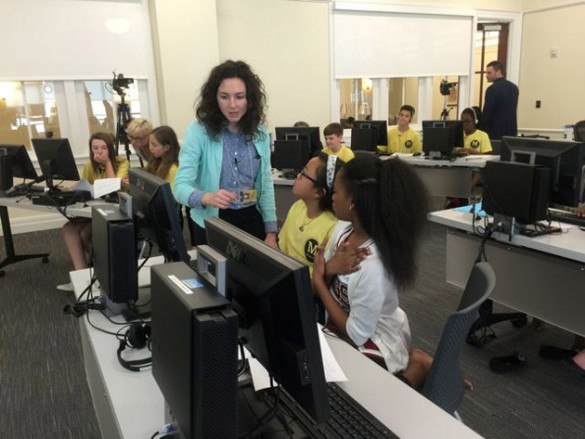 A sixth-grade class from Meigs Academic Magnet Middle School recently spent a day at the Nashville Public Library Downtown Branch participating in an instructional program developed at Vanderbilt called "Telling, Mapping and Listening to Nashville: Public History and Geography of the New South."
"[rquote]We hoped that youth would come to view themselves as participants and contributors to Nashville's living public history,"[/rquote] explained Peabody doctoral student Jennifer Kahn.
The May 6 program was part of a larger collaborative research effort between the Nashville Public Library (NPL) Special Collections Division and Vanderbilt University's Peabody College of education and human development.
"Together, we sought to design innovative learning activities that engage youth in scholarship with the library's rich archives of local public history," Kahn said. "We specifically wanted to incorporate the NPL's 'New Faces of Nashville' oral history collection, which captures the stories of Nashville's residents who are representative of the city's changing demographics and diversification, into our project design."
By giving youth, along with teacher James Parsons, the opportunity to consider multiple representations of place across scales, from recordings of local, personal narratives to maps that tell big data stories, the researchers hoped that students would consider different ways to represent a dynamic and diverse place such as Nashville.
"We introduced students to digital mapping tools and human geography concepts so that they might think spatially and critically about their personal relationships to Nashville from local, national and global perspectives," Kahn said.
The students used digital mapping tools, such as Google Earth and Google Maps, to explore stories from the New Faces of Nashville collection and to map their own bio-geographies, which showed the places where they and their families have lived. Layering these narratives and traversals onto the map of Nashville inspired the students to get excited about family stories and personal histories of mobility.
"It was great to see that the Meigs students were able to critically reflect upon their mobility patterns and the built environment and demographics of their neighborhoods and the greater Nashville area," Kahn said.
The Space, Learning and Mobility (SLaM) Lab within Peabody's Department of Teaching and Learning has an ongoing partnership with Andrea Blackman, the director of NPL's Special Collections Division, and her staff. This particular project was part of a National Science Foundation grant to bridge local archival collections of public history and youth's experiences of Nashville.
The class also was supported by a Public Scholarship Fellowship grant from the Curb Center for Art, Enterprise and Public Policy at Vanderbilt. The Curb Center works to sustain research that engages the public community in learning and generating creative solutions to policy and civic issues.
This class and subsequent iterations collectively will inform future designs of instructional activities and benefit additional research and theory development around youth learning and interaction with spatial storytelling tools and concepts.
Reeta Parks, the teacher-librarian at Meigs Academic Magnet Middle School, helped make the program with Meigs possible. Jay Clayton, director of the Curb Center at Vanderbilt, and Heather Rippetoe, Curb Center program coordinator, also provided support. Others involved in the project, in addition to Blackman, included Amber Williams and Luke Herbst of the NPL Special Collections Division and Kahn's adviser, Rogers Hall, who directs the SLaM lab. Other contributors to the design and implementation of the program included SLaM lab faculty and grad students, including Kevin Leander, David Owens, Tyler Hollett, Alvin Pearman, Benjamin Shapiro and Lara Heiberger.