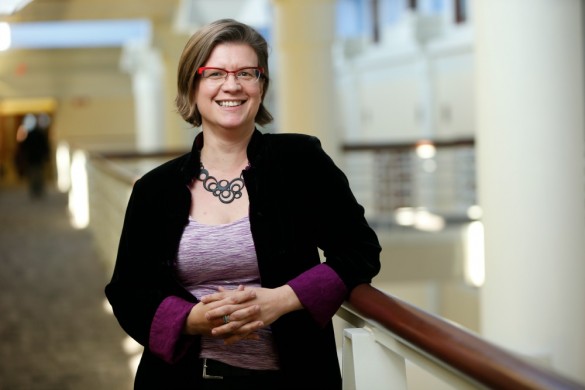 Isabel Gauthier, David K. Wilson Professor of Psychology and professor of radiology and radiological sciences at Vanderbilt, has been selected as the 2015 Professor of the Year by the Southeastern Conference.
"Dr. Isabel Gauthier is a teacher, researcher and mentor who embodies the most desirable qualities we seek in the professoriate," said Chancellor Nicholas S. Zeppos. "She has engaged in high-quality, high-impact research and attained an international reputation for her expertise in object recognition. [rquote]Her work at Vanderbilt has been exemplary, and she has distinguished herself as one of the most sought-after professors for Vanderbilt students of all levels.[/rquote] I am thrilled she has been named the 2015 SEC Professor of the Year."
Zeppos is the current chair of the SEC's presidents and chancellors.
Each year, the SEC recognizes one faculty member from each of its 14 member universities who has excelled in teaching, research and scholarship with the Faculty Achievement Award. Each award winner receives a $5,000 honorarium from the SEC. To be eligible for the award, a professor must be a teacher or scholar at an SEC university; have achieved the rank of full professor; have a record of extraordinary teaching; and have a record of scholarship that is recognized nationally and/or internationally.
"The SEC is pleased to bestow the 2015 SEC Professor of the Year award on Dr. Isabel Gauthier," said SEC Commissioner Mike Slive. "Her commitment to her students, to her research and to her field are virtually unmatched, and I congratulate Dr. Gauthier on this tremendous honor."
The SEC Professor of the Year is selected from SEC Faculty Achievement Award winners, receives an additional $15,000 honorarium and is recognized at the SEC Awards Dinner in May and the SEC Symposium in September.
Gauthier's research interests include the behavioral and neural study of visual object recognition, especially in domains of perceptual expertise such as faces, letters, musical notation, with implications for disorders likes autism and congenital face blindness. Her dissertation research demonstrated for the first time that the behavioral and neural underpinnings of perceptual expertise could be studied in the laboratory using short-term training protocols. Her work has demonstrated that the brain area which many experts thought specialized in face recognition also responds to other object categories, such as birds, planes or cars, in people who have expertise with these categories.
In 2000, Gauthier founded the Perceptual Expertise Network (PEN), which comprises more than 10 laboratories across North America and is now part of the National Science Foundation-funded Temporal Dynamics of Learning Center. With 30 workshops held in 15 years and hundreds of collaborative projects, PEN offers a new model of interdisciplinary collaboration centered on graduate student and post-doctoral fellow participation.
Gauthier has authored more than 110 peer-reviewed scientific articles, with 50 of these cited at least 50 times. Overall, her publications in many of the more prestigious journals in psychology and neuroscience have been cited more than 12,300 times.
She received the Young Investigator Award of the Cognitive Neuroscience Society in 2002, the American Psychological Association's Distinguished Scientific Award for Early Career Contribution to Psychology in the area of Behavioral/Cognitive Neuroscience in 2003 and the Troland research award from the National Academy of Sciences in 2008 "for seminal experiments on the role of visual expertise in the recognition of complex objects including faces and for exploration of brain areas activated by this recognition." She was elected Fellow of the Association for Psychological Science in 2010 and Fellow of the Society of Experimental Psychologists in 2012. In 2014, she received a Chancellor Award for Research from Vanderbilt University.
Gauthier teaches undergraduate Introductory Psychology and Brain Damage and Cognition and has taught Research Methods in Psychology. She has mentored several students in honors projects in her laboratory and has also received an award for the excellence of her graduate mentoring.
The SEC provosts select the SEC Faculty Achievement Award winners and the SEC Professor of the Year, and the program is administered by SECU, the academic initiative of the Southeastern Conference. SECU serves as the primary mechanism through which the collaborative academic endeavors and achievements of SEC students and faculty are promoted and advanced.