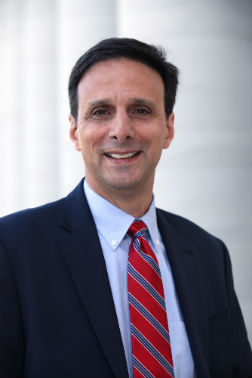 Joseph Wehby has been selected as the recipient of the 2015 Special Education Research Award from the Council for Exceptional Children. The award will be presented April 8 at the CEC 2015 Convention & Expo in San Diego, California.
Wehby is associate professor of special education at Vanderbilt Peabody College of education and human development and a Vanderbilt Kennedy Center researcher.
Wehby's research focuses on identifying variables associated with the development and maintenance of aggressive behavior in children with emotional and behavioral disorders (EBD) and possible treatment strategies.
Among his contributions to the field is establishing the relationship between teachers' patterns of instruction and its influence on both academic achievement and problem behavior in children and youth with EBD. He has developed comprehensive reading interventions that have had positive effects on academic and social performance. This work also has led to the development of observational methods for identifying behavioral processes and evaluating instructional interventions.
"This is a well-deserved recognition of Dr. Wehby," said Elisabeth Dykens, Annette Schaffer Eskind Chair and Vanderbilt Kennedy Center director. "His research is of the highest quality. It addresses important, fundamental problems, and his work has had great impact on the field."
"Perhaps it is in the area of training that Joe Wehby's research has made the biggest impact," added Donald Compton, professor and chair of special education. "At the doctoral level, a number of his students have extended the research in EBD to a greater scale and are identified as leading scholars in the field today. "The same impact can be seen at the classroom level, where his M.Ed. students have gone on to work in school districts around the country, using techniques developed from some of his research to improve the school outcomes of students with EBD.
"Overall, the work he has conducted and the students that he has trained have improved the lives of special education teachers and their students—and this impact will continue in the future," he said.
Contact: Elizabeth Turner, (615) 322-8240
elizabeth.turner@vanderbilt.edu