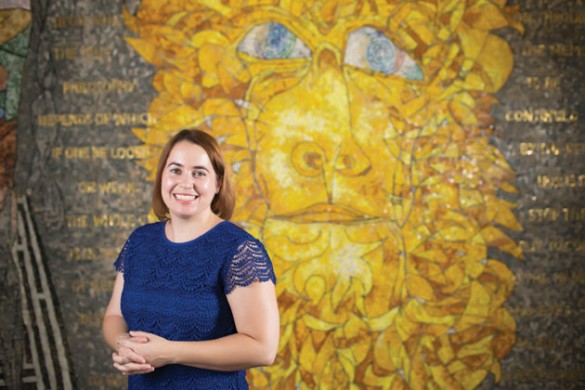 Lisa Fazio grew up in an academic household, the daughter of two professors at Indiana University Bloomington.
Her father was in the psychology department, her mother in speech and hearing. A math whiz with a penchant for crunching numbers, it's no surprise that Fazio wound up in academia.
Formerly at the University of Pittsburgh, and before that Carnegie Mellon, she joined Peabody College's psychology faculty this fall to pursue a line of research she hopes will have positive applications for math education. Fazio studies memory—specifically, the instability of memory—and how retrieval practice can improve students' information recall. "Memories are not like videotapes; they are flawed reconstructions of past events," she explained. "[rquote]Errors get into our memories that interfere with learning, and I am looking at what we can do to correct those errors."[/rquote]
Cognitive psychology is a challenging field. But just like her childhood math homework, Fazio sees her research as an exercise in fun. "I love to get my hands on data and play with it," she said.
And speaking of play, she has developed a math-themed computer game for her fourth- and fifth-grade study participants. In Catch the Monster with Fractions, players place fractions on a number line. Behind each correct answer a monster lurks, waiting to be caught. Catch them all and you win the game. As players exhibit proficiency, the game gets harder, challenging their skills.
"Fractions are a turning point in math education, because fractions don't behave like whole numbers. They essentially blow up everything a child has learned about how numbers behave," she said. "But the game takes kids out of their math anxiety. They don't want to stop playing it, because even though they're learning, it doesn't feel like homework—it's just fun."
Having recently relocated to Nashville with her boyfriend and two dogs, Fazio's off hours are spent unpacking, dog walking and planning for culinary adventures.
"I'm kind of a foodie, and I hear Nashville has a lot of great restaurants," she said. "I can't wait to get out and explore."
View the complete list of new university faculty for 2014-15.
View the complete list of new medical faculty for 2014.