Media Inquiries
Latest Stories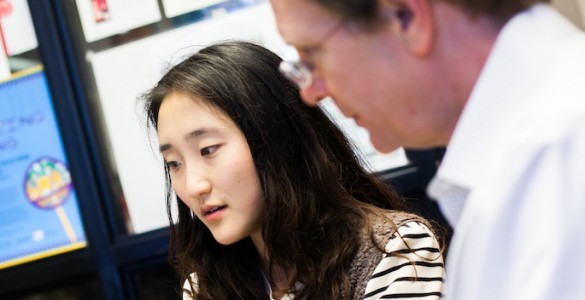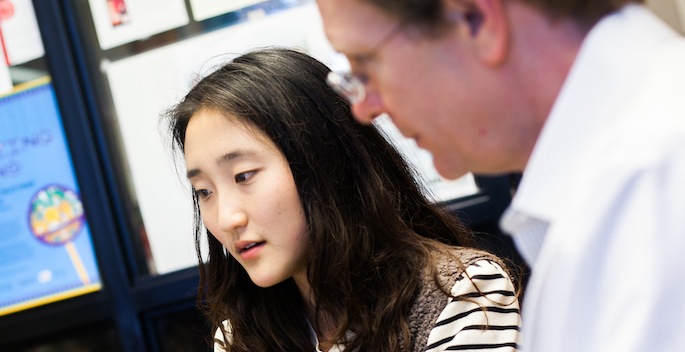 Developing and marketing a nutritional supplement for Guatemalan children, building a comprehensive filmography of Shakespeare's works, and testing the impact of music lessons on low-income children were among the topics studied by undergraduates in the first year of the Littlejohn Family Undergraduate Research Program at Vanderbilt University.
The program, launched in September, named five College of Arts and Science professors as Littlejohn Faculty Fellows. They directed and worked with six student scholars on specific research projects during the academic year. Students presented their findings at a symposium held at Vanderbilt University on April 18.
"The genius of the project involves the way it operates across disciplines and subjects from the oldest of the humanities to the most recent sciences to tap into the enormous intellectual energy and creative potential of Vanderbilt students," said Professor of English Sam B. Girgus. He worked with senior Stephanie Hoskins on the creation of a scholarly database and research tool that will benefit not only experienced scholars but also beginning students of Shakespeare.
Edward F. Fischer, professor of anthropology and director of the Center for Latin American Studies, valued how the program advanced his work and rewarded his student colleagues. "Their research has been crucial in understanding nutrition in Guatemala and helping provide real solutions to malnutrition," he said of students Eunice Jun and Rachael Grenfell-Dexter. "[rquote]They report that this has been an amazing way to actually see results of research in use, to apply theory to real problems, and to make a difference in the world."[/rquote]
Sohee Park, the Gertrude Conaway Vanderbilt Professor of Psychology, says that the program added a new dimension to her research and her teaching. "The Littlejohn faculty award enabled me to pursue a new direction that takes psychological science out of the lab, into the community," she said. "By encouraging a close collaboration between a professor and a student, this award also allowed me to take teaching out of the classrooms into the real world."
Projects with results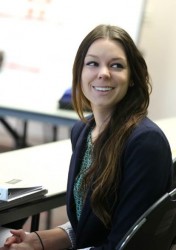 Working with Girgus, Hoskins produced a research catalog of movies that have been made from Shakespeare's works. The cross-cultural database includes a filmography, cinetext materials and brief summaries of each film's cast, director, year and synopsis. The English major from Fort Pierce, Fla., logged nearly 200 films produced between 1936 and 2013 and provided more in-depth analysis on approximately 25 of them.
Grenfell-Dexter, a medicine, health and society junior from Pemba, Kenya, and Peabody student Jun, a cognitive studies and computer science sophomore from Los Angeles, teamed with Fischer in advancing a long-term project he heads. The students developed recipes that used a malnourishment product (Maní+) designed for Maya communities in Guatemala and suggested culturally appropriate ways to market the product to the parents of young children. In the course of the year, they also traveled to Guatemala and presented at the 2014 Global Health Innovation Conference at Yale University.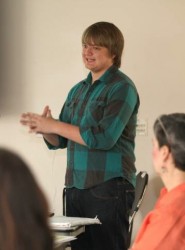 Jens Meiler, associate professor of chemistry, worked with sophomore Steven McIntyre, a biological science major from Lane, Ore., on a study of the structure of the multi-drug resistant membrane protein EmrE from E. coli. Like most proteins, EmrE is a long, string-like molecule that folds up into complex, three-dimensional shapes. This is important because a protein's shape is what determines how it functions in a cell. McIntyre used computer algorithms to gather information about the protein's shape and the sequence of folds that it undergoes, which can't be calculated by observation alone due to its size and complexity. His work furthers Meiler's efforts to identify the structure of EmrE, which could aid in the development of more efficient and specific drugs.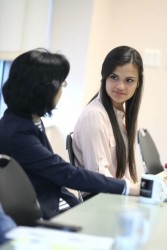 Ashley Vega, an interdisciplinary studies junior from Frisco, Texas, conducted research with Park and two Peabody Research Institute members, Jan Morrison and Gabrielle Chapman, that evaluated the effects of music instruction on cognition and school performance among low-income children. Vega and her collaborators applied a battery of cognitive tests to an experimental group of students enrolled in basic musicianship class at Nashville's W.O. Smith Music School and compared them with test results from students who were on the waitlist for the music lessons. They found that music instruction significantly improved the cognitive skills of the students, suggesting that providing music classes may be an effective way to improve students' academic performance. Park's team will continue the project through additional stages.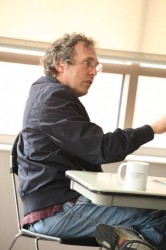 Senior Alec Jordan, an English major from Dalton, Ga., assisted Professor of English and Department Chair Mark Schoenfield on an analysis of British periodicals of the 19th century and articulated an explanation of how Samuel Taylor Coleridge, through a reputation which expanded after his death, continued to have impact on the formation of ideas for British culture. The fellowship allowed them to pursue a line of inquiry that Schoenfield said is developing into both an important new look at Coleridge as a canonical figure and a new technique of pursuing research in 19th century periodicals.
Original research in action
The six students—two seniors, two juniors and two sophomores—credit the experience for enhancing their education, helping cement career choices and illustrating the link between scholarship and real-world needs.
"[lquote]The Littlejohn Research Program has allowed me to take part in one of the most rewarding school-related projects I have ever participated in," Vega said.[/lquote] "I hope our research helps W.O. Smith in advocating the importance of music in young children, as it is a fun and entertaining way to improve childhood cognition."
In conducting her project, Jun was struck by the link between academic research and social impact. "My participation has shown me the inextricable connection between research and service, between ideas and action," she said. "I learned this lesson especially clearly when I conducted field research in Guatemala over spring break (funded by the Littlejohn Fellowship) and saw how my work directly impacts real people."
The faculty participants say that the program and its symposium sparked ideas for trans-institutional efforts as well. "I was energized and invigorated by the interdisciplinary Littlejohn symposium. The intellectual depth and creativity of the student presentations, the impact and the value of each project, and all the lively questions and discussions were truly inspirational," Park said. "[rquote]Occasions like this remind us what university education is all about."[/rquote]
This is the second major research program at Vanderbilt supported by the Littlejohn family, Angus Littlejohn Jr., his wife, Leslie, and son Angus III, BA'07. In the first, faculty working on projects through the Vanderbilt University Summer Research Program may be designated as Littlejohn Faculty Fellows. The new program extends its reach to faculty during the academic year. One of the Littlejohns' goals is to support education as the primary tool to empower individuals to make a positive difference in society. The emphasis on undergraduate research supports their intent to provide opportunities at the beginning of an educational experience and thus inspire and engage young scholars.
Faculty interested in applying for the Littlejohn Family Undergraduate Research Program should contact Arts and Science Senior Associate Dean Karen Campbell. Student participation is at the invitation of the faculty applicants. Their applications, which should include information on student partners for the proposed projects, are due in early May.