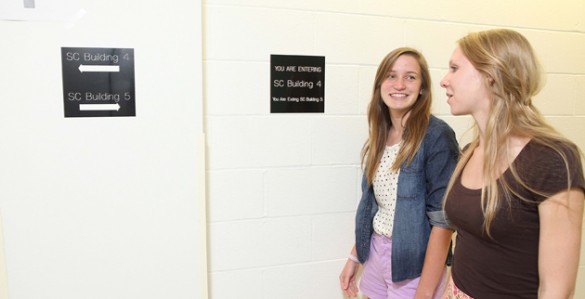 Every freshman feels a little lost navigating a new campus, but for those assigned to a class in Vanderbilt's Stevenson Center, "lost" can take on a whole new meaning. Last spring, a group of first-year students decided to do something about it.
First built in the 1960s, the Stevenson Center for the Natural Sciences is a complex of eight buildings in the heart of main campus that house classrooms and lab space for chemistry, physics, mathematics, molecular biology and biomedical engineering, among other disciplines, as well as lecture halls, the Sarah Shannon Stevenson Science and Engineering Library, and the School of Engineering dean's office. The current complex comprises more than 350,000 square feet.
Some—but not all—of the complex's buildings are connected. Of those that are, not every building can be accessed from every level of an adjoining structure. Due to a similar interior appearance and lack of clear signage, it's easy to leave one building and enter the next without realizing you've done so. In a few cases, rooms on one side of a hallway are technically located in one building, while those across the hallway reside in another.
So when a group of first-year Peabody College students in professor Brian Griffith's HOD 1100 course, Small Group Behaviors, was tasked with identifying a problem on campus and proposing a solution, they decided that Stevenson Center was what they would tackle.
One member of the group, Jeremy Tarica, had experienced Stevenson's bewildering effects firsthand. Assigned to a required math class in Stevenson his first semester on campus, Tarica often had trouble finding the classroom. He would show up late and frustrated, until he eventually dropped the course.
Tarica and the other Human and Organizational Development students in his group—Will Ashton, Carolyn Buys, Morgan Clark, Allanah Jackson, Justin Liao, Kelly Salina and Jen Warner—proposed creating new, detailed signs for Stevenson that would help all who entered the complex better navigate its buildings.
"[lquote]We wanted our project to result in something tangible that could help students for years to come," Jackson explained.[/lquote]
"I think what was also significant for us was addressing the problem as Peabody students, because Stevenson is not where we typically spend a lot of time," Buys added. "We wanted to do something that would benefit the whole campus."
The group's assignment required that they collect meticulous data to define the problem as well as the steps they took to resolve it. The students recruited nearly 40 volunteers representing all schools, including their professor and his teaching assistant, and timed them as they searched for specific locations within Stevenson. They also convened focus groups to discuss what types of signs might be helpful and where they should be placed throughout the complex. But mostly the group spent countless hours wandering through Stevenson, becoming familiar with its buildings and identifying its problem areas.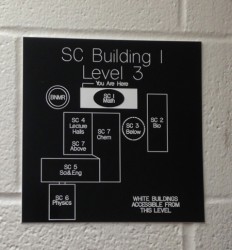 The students devised four types of signs:
Stairwell signs that indicate one's current location and which other Stevenson Center buildings can be accessed from that location and at that level, without going up- or downstairs or exiting the building;
Transition signs placed in hallways that indicate which Stevenson Center building one is entering and which building one is leaving;
Elevator signs that indicate which Stevenson Center buildings can be accessed when exiting the elevator at a given level; and
Directional signs that point the way to often-used labs for introductory physics, chemistry, earth and environmental sciences and biology classes.
They hung temporary versions of these signs and had their volunteers undertake the timed trials again. They found on average, the volunteers shaved about 10 minutes off their times.
Having met the requirements of their assignment, the students wanted to turn the exercise into something more permanent. They approached Associate Dean for the College of Arts and Science George Sweeney, Associate Dean for the School of Engineering Janiece Harrison and Deputy Vice Chancellor for Facilities and Environmental Affairs Judson Newbern, who listened to their proposal for new signs and helped to fine-tune their designs.
Newbern suggested that the signs be made in house by the Vanderbilt Plant Operations sign shop and arranged for digital maps of the Stevenson Center to be created to help in the hanging process. Plant Ops' Randall Marsh cut and hung the 91 resulting signs this summer—quite a feat, since no two signs are alike and each hangs in a different location.
"We've always known that Stevenson Center's labyrinthine hallways are confusing to new students and visitors," Sweeney said. "The staff of teaching labs and departments within Stevenson have hung homemade signs to help people find their way, but no one had thought of a uniform system of signs that could be deployed throughout the entire complex, and no one had the time required to specify the exact image and wording to be placed on each sign according to its location.
"The students had really good ideas," Sweeney continued. "They did a great job developing their concepts and following through, devoting the enormous amount of time necessary to bring their ideas to fruition."
The HOD students acknowledged that for faculty and students of math, engineering and the sciences, navigating the complicated Stevenson Center soon becomes old hat. But for the rest of us, the new signs might make finding our way a bit easier.
"I don't think any of us knew this project would become so involved when we started it," said Jackson, who noted that the signs were hung long after the HOD class had concluded. The students, who received an A on their assignment, have no regrets.
"I think this became much more than a class project for us," she said.
Navigating the Stevenson Center Complex
The first digit in a Stevenson Center room number refers to the building, the second digit refers to the level, and the third and fourth digits refer to the room number itself.
Math
The mathematics building is Building 1 of the Stevenson Center, with rooms numbered 1xxx.
Molecular Biology
The molecular biology building is Building 2, with rooms numbered 2xxx.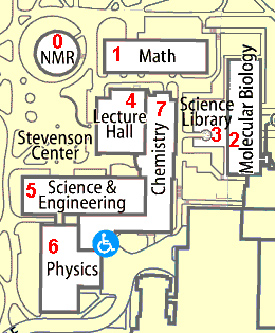 Library
The Sarah Shannon Stevenson Science and Engineering Library is located on the ground level (Level 2) of Building 3, with rooms numbered 3xxx.
Lecture
The Stevenson Center lecture halls are located in Building 4, with rooms numbered 4xxx.
Science and Engineering
The science and engineering building is Building 5, with rooms numbered 5xxx.
Physics and Astronomy
The physics and astronomy building is Building 6, with rooms numbered 6xxx.
Chemistry
The chemistry building is Building 7, with rooms numbered 7xxx.
BNMR
This round building, once home to Vanderbilt's first mainframe computer, now houses the campus's 900 MHz nuclear magnetic resonance spectrometer, hence the name Biomolecular NMR Facility.