Media Inquiries
Latest Stories
Fewer health care providers than ever in world's areas of greatest need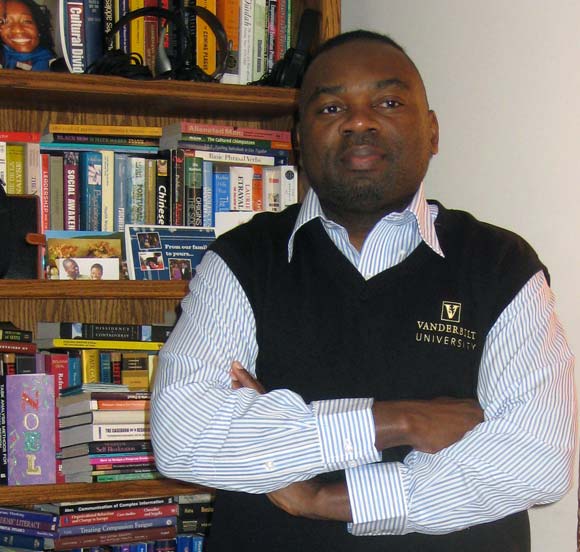 The past decade has seen a dramatic rise in the number of physicians trained in Sub-Saharan Africa (SSA) emigrating to the United States, resulting in a "brain drain" on nations in the greatest need for affordable and accessible health care. This global dilemma is explored in the dissertation of Akhenaten Tankwanchi, a portion of which was published recently in PLOS Medicine.
"This subject is both vital and controversial," said Douglas Perkins, professor of Human and Organizational Development at Peabody. "It entails the transfer of scarce human resources for health from the least developed countries in the world with the greatest health needs to the richest country with the most health resources."
Tankwanchi used the American Medical Association Physician Masterfile, a biographic database of all U.S.-based physicians, to identify licensed and resident physicians originating from 28 SSA countries in the United States. He found that migration trends of SSA-educated physicians to America increased dramatically—40 percent overall when compared to the last decade. In most cases the countries of origin have paid for the physicians' training and have a very low number of physicians relative to the population.
"These increases are particularly important because the number exceeds the total number of physicians in Ethiopia, Ghana, Liberia, Tanzania, Uganda, Zambia and Zimbabwe combined," said Tankwanchi, who has consulted with World Bank and other organizations on the topic. "Many Sub-Saharan African countries are losing their doctors at an unsustainable rate, despite the widespread medical needs of the region."
Tankwanchi's research, which is supported by World Bank and the Vanderbilt Institute for Global Health, also reveals that the length of time SSA-trained physicians are practicing medicine in their own countries before coming to America is decreasing.
"We found (in the 1980s and 1990s) that earlier émigrés arrived in the United States eight years after graduation, on average, compared to 2.4 years for the later émigrés," Tankwanchi said. "The sharp decline in the number of years served prior to emigration … foretells the challenges of stemming the medical 'brain drain' in an era of increased globalization."
Tankwanchi is a Ph.D. student in Community Research and Action in the Human and Organizational Development Program at Vanderbilt Peabody College for Education and Human Development.
Read Tankwanchi's paper, "Physician Emigration from Sub-Saharan Africa to the United States: Analysis of the 2011 American Medical Association Physician Masterfile."