Media Inquiries
Latest Stories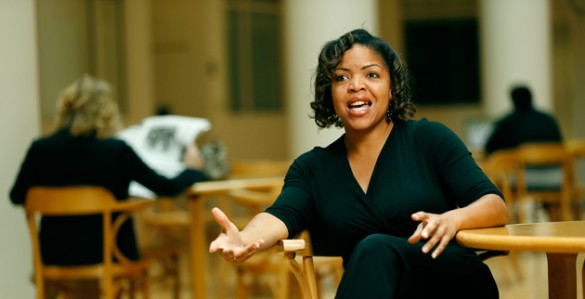 Armed with a bachelor's degree in electrical engineering and a master's in industrial engineering, Ebony McGee spent her early career working for Ford Motor Co., General Electric and NASA's Jet Propulsion Laboratory. She then went to work at Hewlett-Packard in the area of competitive intelligence, gathering and analyzing information about products and the marketplace to guide HP's strategic decision-making.
McGee was at the top of a very competitive field, but something was missing.
"[rquote]I felt like I wasn't contributing to society in a way that was most impactful, which for me meant really connecting with the lives of others—particularly people like me who were talented in mathematics and the STEM fields," she said.[/rquote]
Raised by a single parent on Chicago's South Side, McGee had an aptitude for math and a curiosity for how things worked from an early age. "I had an inclination for taking things apart, so I got involved in programs that allowed me to do that without getting in trouble," she said. "Engineering camps were crucial in helping me find my niche."
She pursued her undergraduate degree at North Carolina Agricultural and Technical State University, a historically black university where she felt nurtured and gained a strong sense of self. Her master's came from the New Jersey Institute of Technology. When she decided to leave the corporate world and renew her focus, she started by going home.
While studying for a Ph.D. in mathematical education at the University of Illinois at Chicago, McGee took courses in educational psychology to better understand resiliency among marginalized students. Borrowing from the work of social psychologist Claude Steele, who first described "stereotype threat," feeling anxiety in a situation where others' stereotypical beliefs about one's competence lowers his or her performance, McGee explores "stereotype management," using one's awareness of others' negative stereotypes as motivation to not only achieve, but to excel. Her dissertation, "Race, Identity and Resilience: Black College Students Negotiating Success in Mathematics and Engineering," received the American Educational Research Association's Division G Outstanding Dissertation Award in 2010.
As an assistant professor of education, diversity and urban schooling in the Department of Teaching and Learning, McGee will continue the research she began as a National Science Foundation postdoctoral fellow: investigating the role of stereotypes and other influences in the postsecondary career and academic decision-making of high-achieving African American, Asian and Latino STEM students. She is especially interested in why some students, despite completing a rigorous STEM education, seek careers outside those fields.
McGee believes the answers lie beyond quantitative data. "We can't look at test scores alone; there is validity in also hearing their stories," she said. "There are marginalized groups succeeding in STEM at every academic level, and we need to better understand those experiences."
View the complete list of new university faculty for 2012-13.
View the complete list of new medical faculty for 2012.