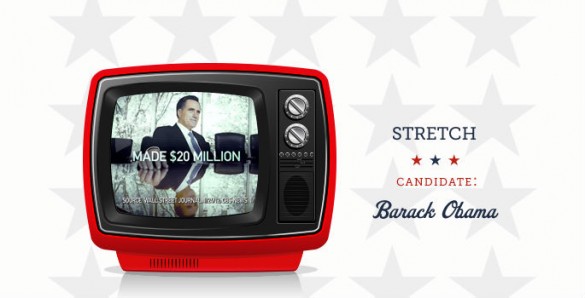 Attacking Mitt Romney appears to be a better advertising strategy for President Obama than stressing his own accomplishments, data from the Vanderbilt/YouGov Ad Rating Project continues to suggest.
YouGov uses a representative sample of 600 Americans, with an over-sample of 200 independent voters, for the poll. Results and a link to "The Choice" ad are posted at The Vanderbilt University/YouGov Ad Rating Project.
The latest ad to be analyzed is titled "Stretch." In it, a narrator says: "You work hard, stretch every penny. But chances are you pay a higher tax rate than him." A photo of a smiling Romney is featured while the narrator intones "than him."
Independent voters indicated the "Stretch" ad made them more likely to vote for Obama than a similar group who saw Obama's more "positive" ad "The Choice."
"These data suggest that Obama should keep attacking Romney," said John Geer, Gertrude Conaway Vanderbilt Professor of Political Science at Vanderbilt and the leader of the Ad Rating Project.
"Despite all the favorable coverage from the press, swing voters just didn't view the positive ad ['The Choice'] as very truthful."
Fifty-one percent of independent voters thought "The Choice" ad wasn't truthful. That dropped to 37 percent when independent voters saw "Stretch," the negative ad.
Visit The Vanderbilt University/YouGov Ad Rating Project for data on all the ads that have been analyzed so far and to view the ads themselves.
Vanderbilt's Center for the Study of Democratic Institution, a key sponsor of the project, aims to foster an engaging intellectual environment to explore how political institutions shape political debate, ameliorate conflicts and influence public policy.