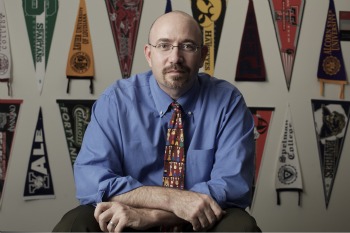 More than 85 percent of students enrolled in the Knowledge is Power Program (KIPP) are from low-income families and 95 percent are African American or Latino. Yet, unlike national trends, more than 90 percent of KIPP alumni have graduated high school and more than 80 percent have gone to college.
KIPP co-founder Michael Feinberg will present on the college completion results and growth of this national network of free college-preparatory public schools at a lecture Tuesday, March 27, at Vanderbilt's Peabody College. The event is 7:30 – 8:30 p.m. in the Wyatt Center Rotunda on the Peabody campus and is free and open to the public.
After graduating from the University of Pennsylvania, Feinberg joined Teach For America and later co-founded the Knowledge Is Power Program in 1994 along with fellow TFA corps member Dave Levin. In 1995, he founded KIPP Academy Houston, where he currently serves as superintendent.
There are 109 KIPP schools in 20 states, including KIPP Academy Nashville. Students are accepted regardless of prior academic record, conduct or socioeconomic background.
Feinberg's talk, titled "Beyond Z: Lessons Learned from KIPP's College Completion Results and Growth," is sponsored by Peabody's Department of Leadership, Policy and Organizations and the Office of Professional and Graduate Education.