Media Inquiries
Latest Stories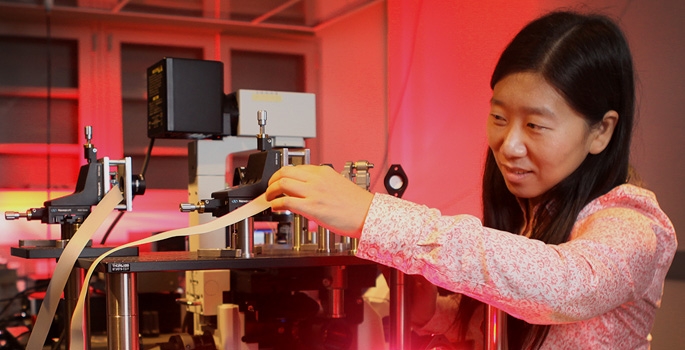 What happens when you attach DNA and other biomolecules to tiny molecular tubes called nanotubes?
Answering this question is the goal of the research of Yaqiong Xu, an assistant professor of electrical engineering and physics, who has been awarded one of the National Science Foundation's Faculty Early Career Development grants. According to the National Science Foundation, CAREER awards support exceptionally promising college and university junior faculty who are committed to the integration of research and education and are likely to become the academic leaders of the 21st century.
Combining biomolecules with carbon nanotubes has created a new class of materials called nanobiohybrids. The use of these novel materials has been proposed in a number of different fields, including tissue engineering, drug delivery, biosensors and diagnostic imaging. But efforts to apply them are hindered by lack of information about their basic properties and behavior.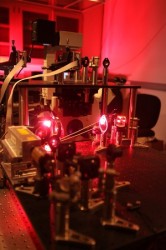 An example of the potential value of nanobiohybrids is a project that Xu is conducting in collaboration with Dai H. Chung, a professor of surgery in the Department of Pediatric Surgery at the Monroe Carell Jr. Children's Hospital. Small interfering RNA (siRNA) is a potentially powerful technique that allows researchers to turn off individual genes by exposing them to special strands of RNA. One of the problems in using this technique therapeutically is that siRNA has a relatively short life time in the body. Xu and Chung are investigating the possibility that nanobiohybrids made by combining siRNA and carbon nanotubes will retain the ability to silence genes while also having substantially longer lifetimes.
Xu has spent more than a year designing and assembling delicate instruments necessary to make the measurements. The foundation of her system is a microfluidic chamber that allows her to move and position individual molecules. The set-up includes dual-trap optical tweezers that use laser light to move tiny objects in order to bring biomolecules like DNA together with individual carbon nanotubes; a customized microscope that scans a carbon nanotube with a low-powered laser beam and measures the amount of electrical current it generates; and an optical microscope optimized to study fluorescence.
This apparatus is allowing her to measure the electrical, mechanical and optical properties of nanobiohybrids with unprecedented precision.
For more information about Xu read the 2009 profile, "Physicist and engineer's sense of discovery spurs research in nanotechnology."