Rhodes Scholars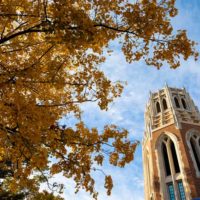 Dec. 10, 2018—Vanderbilt seniors Javan Latson and Sasha Whitley have been awarded Pickering Fellowships for 2019, and junior Mary E. Tezak has been named a Boren Scholarship recipient.
---

Mar. 8, 2018—The Career Center will present several informational sessions and workshops throughout March and April for students interested in applying for competitive national honors scholarships and fellowships.
---

Dec. 4, 2017—Vanderbilt senior Logan Brown has been named a Marshall Scholar for 2018, and senior Jacqueline (Jami) Cox has been named to the third class of Schwarzman Scholars, both organizations announced Monday.
---