kendall card

Mar. 7, 2017—Our fair institution has always prided itself on academic rigor, deservedly so. And while the battle wounds inflicted on me by a well-armed set of microeconomic curves 20 years ago haven't fully healed, more and more I appreciate the demands that were placed on us at Vanderbilt.
---

Mar. 7, 2017—As many as 3,000 living alumni are either active military personnel or veterans who attended Vanderbilt as an undergraduate, and many got their start in the university's Air Force, Army and Navy ROTC programs. In this issue we talk to four alumni whose lives have been shaped in various ways by both Vanderbilt and their military experience.
---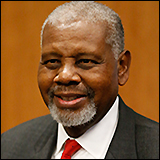 Feb. 10, 2016—Vanderbilt engineering alumni Kendall Card and Perry E. Wallace Jr. will be inducted into the School of Engineering Academy of Distinguished Alumni at a special event in April. S. Shankar Sastry will be inducted as a member of the school's Circle of Distinguished Friends.
---