Media Inquiries
Latest Stories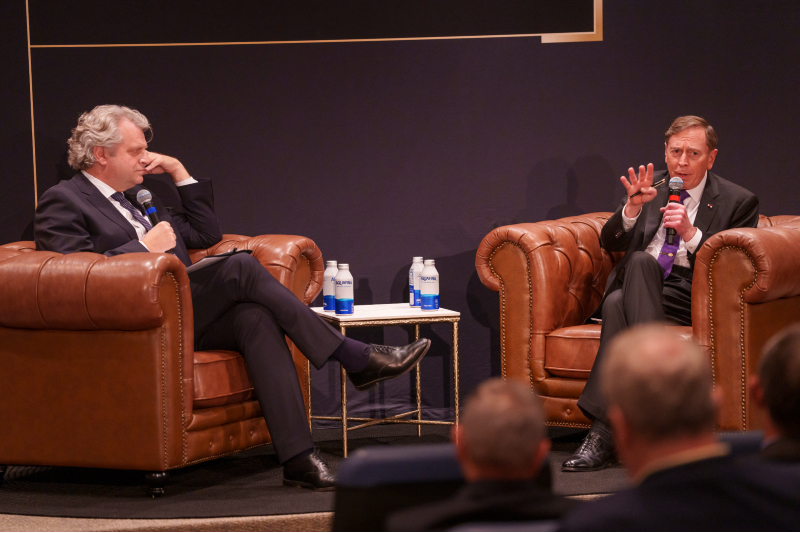 A key element of successful strategic leadership is getting the big ideas right, said retired U.S. Army Gen. David H. Petraeus during the latest installment of Vanderbilt's Lecture Series on Modern Conflict and Emerging Threats. Chancellor Daniel Diermeier hosted Petraeus in conversation at the John Seigenthaler Center on Nov. 10.
Petraeus, one of the leading battlefield commanders and military strategists of our time, served more than 37 years in the Army, including six consecutive commands as general officer, five of which were in combat.
Petraeus described the four main tasks of an intellectual framework for strategic leadership that he developed between his three- and four-star tours in Iraq and then implemented while commanding the troop surge in Iraq, U.S. Central Command, and NATO/U.S. forces in Afghanistan, as well as while serving as director of the CIA. He applies this framework in his assessment of past and current wars in his recently published book, Conflict: The Evolution of Warfare from 1945 to Ukraine, co-authored with Andrew Roberts.
Strategic leaders of all stripes should do the following to be successful, according to Petraeus:
You've got to get the big ideas right.
You have to communicate them effectively throughout the breadth and depth of your organization.
You must personally oversee their implementation.
You should create a formal process for refining them.
One of his own big ideas that Petraeus shared with the Vanderbilt audience was "promote initiative."
"In the absence of orders, figure out what they should have been and execute aggressively," he said. "Remember that, ROTC cadets: Don't wait for somebody to tell you what to do. Figure out what it should be and then just go ahead and do it."
Petraeus discussed in depth the past wars in Iraq and Afghanistan, the current conflicts between Israel and Hamas and between Ukraine and Russia, and looming tensions with fellow superpower China in the context of the strategic framework.
"If you think of the U.S. as the guy in the circus who has to keep a lot of plates spinning, I would submit that there are more plates to keep spinning right now, and more complexity represented by those plates, than at any time since the end of World War II," he said. "But the biggest plate in that tent—bigger than all the others put together—is China. We have to continue to deter China; that is crucial. As the book makes the point, deterrents cost a lot of money, but [they] cost a lot less than a war."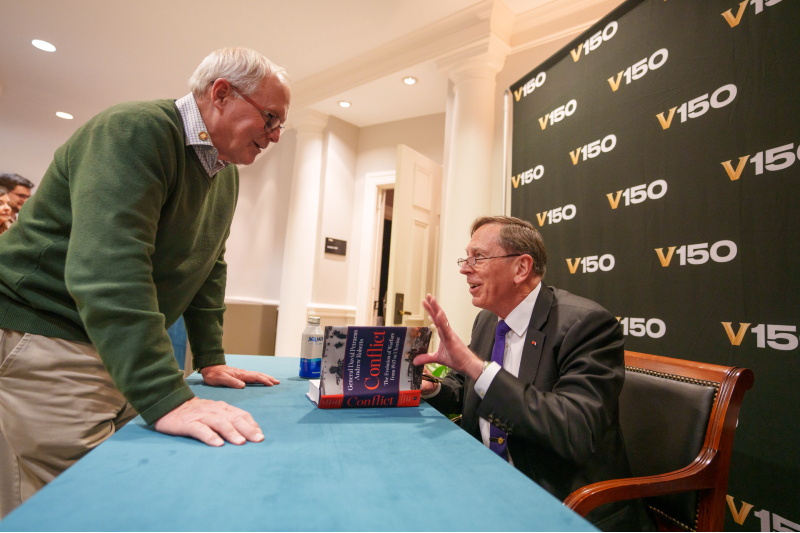 Petraeus stressed the importance of the U.S. supporting its military allies and shoring up democracies around the globe. "We're not doing this just for the good of the rest of the world," he said. "We're doing it because it's in our national interest—in our security interest, our political interest and in our economic interest. This is one of the sources of our prosperity."
The Lecture Series on Modern Conflict and Emerging Threats, launched by the Office of the Chancellor earlier this fall, complements the university's annual Summit on Modern Conflict and Emerging Threats. Both aim to put internationally recognized leaders and experts from the military and intelligence communities in front of Vanderbilt audiences to examine the subjects of emerging threats, cyber conflict, artificial intelligence and peer competition. Mark T. Esper, the 27th U.S. secretary of defense, delivered the inaugural lecture in the series on Sept. 26.
For more information, visit vanderbilt.edu/modern-conflict.