Mark T. Esper, 27th U.S. secretary of defense, delivered the first address of the Vanderbilt University Lecture Series on Modern Conflict and Emerging Threats on Sept. 26.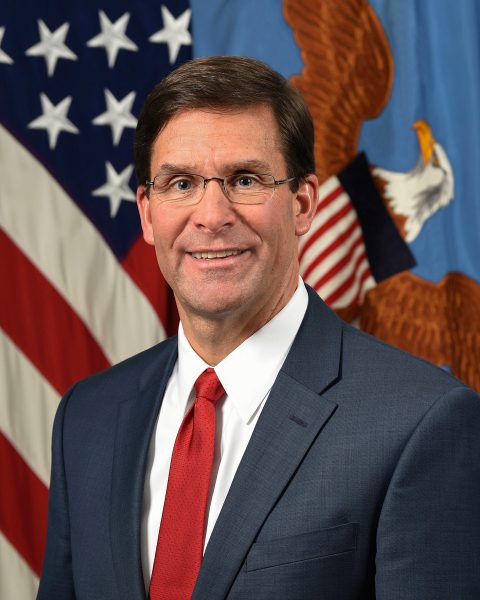 The series, launched by the Office of the Chancellor to complement to the university's annual Summit on Modern Conflict and Emerging Threats, brings renowned leaders and experts from the global military and intelligence community to Vanderbilt to share their insights and expertise on critical topics like cyber conflict, artificial intelligence and emerging threats.
After opening remarks from Distinguished Visiting Professor in the College of Arts and Science Retired Lt. Gen. Charlie "Tuna" Moore, Esper shared his perspectives on a variety of topics related to national security and global conflict.
Of China, Russia and the Russia-Ukraine war, Esper said:
Both countries use [outright force and intimidation] and other tactics to bring smaller countries, to draw them into their sphere of influence, if not control, and to force concessions from them. Hegemony is alive and well, if you ask their neighbors. Stronger, bigger democracies, those that Putin and Xi are unlikely to threaten with military force, will see economic and diplomatic leverage applied against them instead. We have seen Beijing do this to Australia, Korea, Japan and others, ranging from restrictions on tourism to trimming access to consumer goods and rare earth materials. Moscow has cut off energy to its European neighbors and is now using food as a weapon, threatening the shipment of agricultural products through the Black Sea in order to get their way in other areas. The war in Ukraine, which is now well into its second year, has been both tragic and inspiring. The courage and fortitude of the Ukrainian people to stand up to and beat back a much larger foe has given us hope. Their skill and determination has proven that it's not always the size of the dog in the fight, but the size of the fight in the dog that matters.
After his talk, Esper joined Chancellor Daniel Diermeier to further discuss complex challenges related to national security.
Diermeier outlined two main areas of concern about China: the country's rapid buildup of its Navy and concurrent development of advanced hypersonic weapons, and its domestic troubles ranging from crackdowns on tech companies to acute demographic challenges.
Esper acknowledged the two dimensions of the "China challenge," highlighting the significant military buildup that China has undertaken over the past three decades, including the expansion of its Navy to become one of the largest in the world. "They now have the largest Navy, 350-some ships … and they expect to go well above 400 ships in the next few years. Their shipbuilding capacity, by the way, is over 200 times greater than ours," Esper said. He emphasized the importance of maintaining a strong and modern military and tapping into innovation to stay ahead of China's advancements, broadly.
With regard to concerns about China's aggressive actions in the Western Pacific, particularly regarding Taiwan, Esper suggested that the Chinese government might exploit external distractions as the country faces domestic turmoil, including a real estate market crisis, high youth unemployment and economic instability.
The wide-ranging conversation touched on international posture toward relations between China and Taiwan, Putin's calculus in dealing with the West, the changing nature of modern conflict within a global economic system, the role of AI in decision-making and the role that universities have played in translating scholarship to real-world innovations that bolster our national defense.
"It does take this interdisciplinary approach to think through the problem and make sure that you're addressing all the right issues—not just the ones you see, but the ones that you know are out there. And of course, as one of my predecessors [Donald Rumsfeld] said, the unknown unknowns," Esper said. "I think that's where academia can do that, because you also have the virtue of not being there … in the field or on the ship thinking about the technology. You have the room to think big and think broadly in ways that others don't… It's open ground right now because we do need a lot of thought soon on what this all means and how we approach it… It's not just changing warfare, it's going to change how we live. It's going to change our culture, our way of life, how we do everything in dramatic ways."
Chancellor Daniel Diermeier in conversation with Mark T. Esper, 27th U.S. secretary of defense, as part of the Vanderbilt University Lecture Series on Modern Conflicts and Emerging Threats (Vanderbilt University)
About Mark T. Esper
Esper began his tenure as secretary of defense in July 2019 with strong U.S. Senate confirmation. During his term, he faced a range of challenges, including navigating tensions with Iran, ongoing military operations in Afghanistan, nationwide civil unrest and the global COVID-19 pandemic. Notably, he implemented a new national defense strategy that emphasized China and Russia, while prioritizing international alliances, strengthening military capabilities and introducing transformative concepts such as the Space Force and enhanced cyber capabilities.
Before his role as defense secretary, Esper was the 23rd secretary of the army from 2017 to 2019. In this capacity, he oversaw a vast organization with a budget of $180 billion, established the U.S. Army Futures Command, enhanced recruitment standards and championed initiatives to support Army personnel and their families.
He served as an infantry officer with the 101st Airborne Division during the Gulf War in 1990–91 and later commanded an airborne rifle company in Europe as part of a NATO readiness task force. His military accolades include the Legion of Merit, Bronze Star and Combat Infantryman's Badge. He retired from the Army in 2007 after a decade of active duty and 11 years in the National Guard and Army Reserve. Esper is currently a partner and board member in venture capital firm Red Cell Partners, while also serving on several private capital and public policy boards. He is the author of the New York Times bestselling memoir A Sacred Oath: Memoirs of a Secretary of Defense During Extraordinary Times.
For questions or more information, email modernconflict@vanderbilt.edu or visit the Lecture Series on Modern Conflict and Emerging Threats website.