Media Inquiries
Latest Stories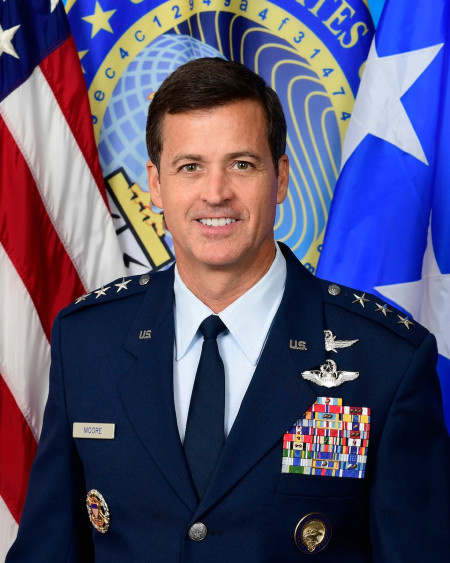 Retired Air Force Lt. Gen. Charlie "Tuna" Moore, a highly decorated pilot who led the day-to-day operations of U.S. Cyber Command, has joined Vanderbilt University's initiative on the future of conflict. He will play a significant role in the university's 2023 Summit on Modern Conflict and Emerging Threats, scheduled for May 4–5. In addition, Moore will be a Distinguished Visiting Professor in the College of Arts and Science.
"As we grow the university's academic excellence in key disciplines surrounding the future of conflict and emerging global threats, Lt. Gen. Moore brings an extraordinary skill set and real-world experience to our teaching and discovery," Chancellor Daniel Diermeier said. "He is poised to make vital contributions as we pursue discovery in cybersecurity and other related research."
Moore retired from the Air Force in fall 2022 after serving as deputy commander of U.S. Cyber Command for two years. In 2017, he had joined Cyber Command, located at Fort George G. Meade, Maryland, as director of operations. He executed the organization's mission to synchronize and coordinate cyberspace planning and operations to defend and advance national interests in collaboration with domestic and international partners.
Moore's previous assignment was working for the chairman of the Joint Chiefs of Staff as deputy director for global operations. He rose through the ranks as a decorated command pilot with more than 3,000 hours in the F-16 and more than 640 hours of combat time. His command experience includes the 555th Fighter Squadron, Aviano Air Base, Italy; the 332nd Expeditionary Operations Group, Balad Air Base, Iraq; the 20th Fighter Wing, Shaw Air Force Base, South Carolina; and the 57th Wing, Nellis Air Force Base, Nevada.
Moore's other roles have included weapons officer, forward air controller and instructor at the U.S. Air Force Fighter Weapons School at Nellis.
"Lt. Gen. Moore's faculty appointment reflects our fierce commitment to tackle some of the world's most pressing problems through interdisciplinary collaboration," said John Geer, Ginny and Conner Searcy Dean of the College of Arts and Science and professor of political science. "We look forward to his arrival on campus, confident that his deep  knowledge and unique life experiences will have a tremendous impact on our students and scholars for years to come."
Moore, a native of Charleston, South Carolina, has received numerous awards and decorations, including the Defense Distinguished Service Medal, Bronze Star and campaign medals with bronze stars for his service in Afghanistan and Iraq.
He earned a bachelor of science from the U.S. Air Force Academy in 1989 and a master of military operational art and science from the Air Command and Staff College, Maxwell Air Force Base, Alabama, in 2002. In 2006, he served as a National Defense Fellow at the Weatherhead Center for International Affairs at Harvard University and has completed numerous executive education courses, including Cybersecurity: The Intersection of Policy and Technology, at Harvard's John F. Kennedy School of Government in 2019.
"I am honored to join the Vanderbilt initiative on the future of conflict," Moore said. "Accelerating interdisciplinary research is a top priority for developing innovative solutions to global security concerns. I look forward to working on this challenge with the vibrant Vanderbilt community."