Vanderbilt University Plant Operations, a division within Facilities, is being renamed to Vanderbilt University Maintenance and Operations (VUMO) to better encapsulate all the roles and duties of the organization. 
"The change in nomenclature more accurately represents the comprehensive scope of responsibilities and activities of this division within Facilities," said Paul Goodman, assistant vice chancellor of VUMO. "The new name better communicates the essence of our division and underscores our commitment to excellence in both maintenance and operations, paving the way for continued success." 
To better serve the VU community, the department is also being reorganized, including promoting from within and hiring new positions: 
Matthew Buckley has been promoted to director of Campus Services, overseeing divisions including custodial, groundskeeping, stores, waste and recycling, integrated pest management, keys, moving, event support and fleet. 

 

Damon Varble has been promoted to director of Maintenance and Energy Management, an expansion of his duties as the former director of Utilities. He will oversee building maintenance zones, energy management and the utilities and automation group, which includes Building System Control (BSC), Controls, Fire and Life Safety and Distributed Water Division (DWD), formally known as the Chilled Water Division.

 

Mike Meadows has been promoted to the associate director of Maintenance and will continue to oversee building maintenance zones, including creation of a new zone. 

 

New co-generation plant manager John Williams will oversee the Energy Production & Utilities group, including operators, power distribution electricians, welders and pipefitters.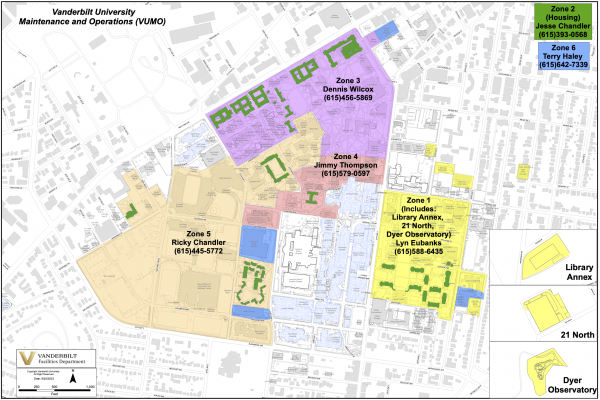 Formerly split into five maintenance zones, VUMO will be adding a sixth zone and reconfiguring zones from geographical to functional to better support VU customers: 
Zone 1, led by Lyn Eubanks, will continue to encompass Peabody Campus, with the exception of resident housing.

 

Zone 2, led by Jesse Chandler, will encompass all resident housing. 

 

Zone 3, led by Dennis Wilcox, will encompass the West End Neighborhood and buildings in the historic part of main campus. 

 

Zone 4, led by Jimmy Thompson, will continue to encompass laboratory and research buildings. 

 

Zone 5, led by Ricky Chandler, will continue to encompass Athletics facilities and central campus.

 

Zone 6, led by Terry Haley, is a new zone that will encompass parking garages plus exterior elements on campus that are not clearly assigned to a building. The VU paint shop will reside in this zone. 

 
These changes will take effect on Sunday, Oct. 8. All work orders should still be submitted using the ReADY application.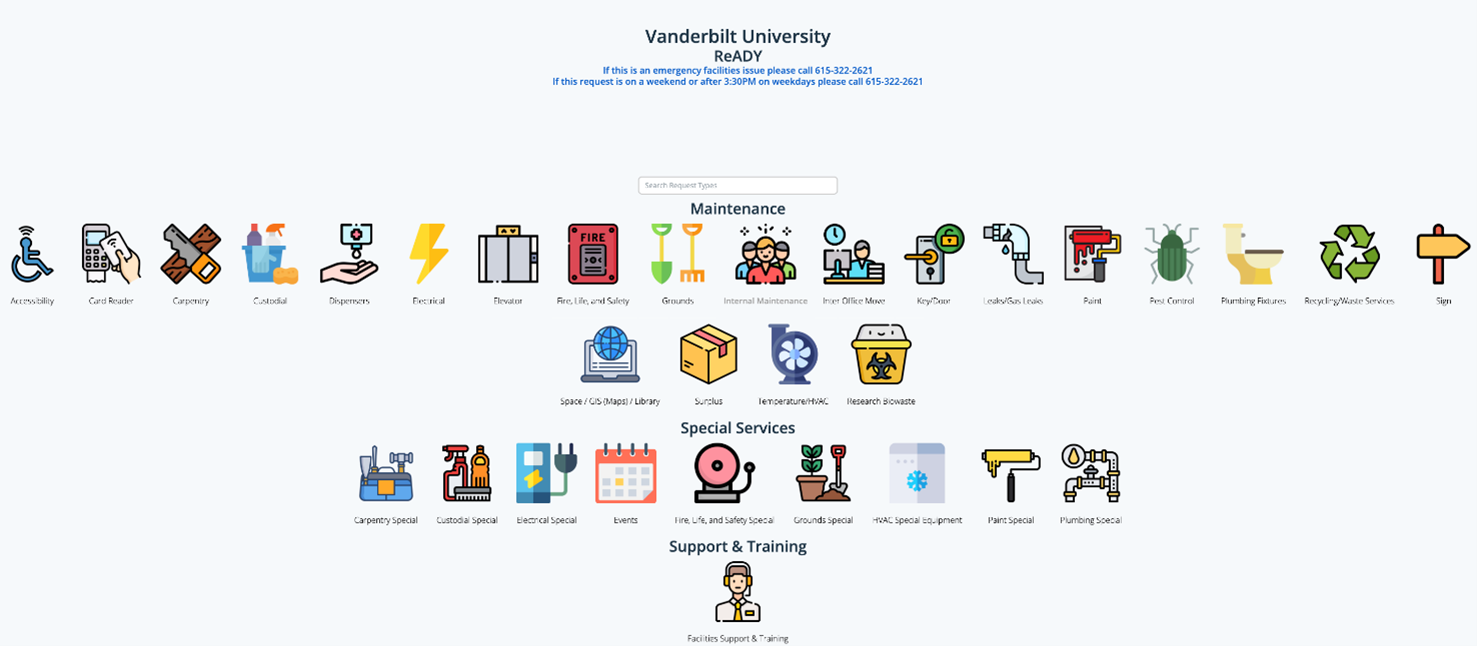 For emergency facilities issues, please call 615-322-2621.