The Vanderbilt Center for Research on Inequality and Health held its inaugural seminar on Sept. 18, hosting Stephen Russell, director of the School of Human Ecology at the University of Texas at Austin. Russell is an expert in adolescent and young adult health, with a focus on sexual orientation and gender identity.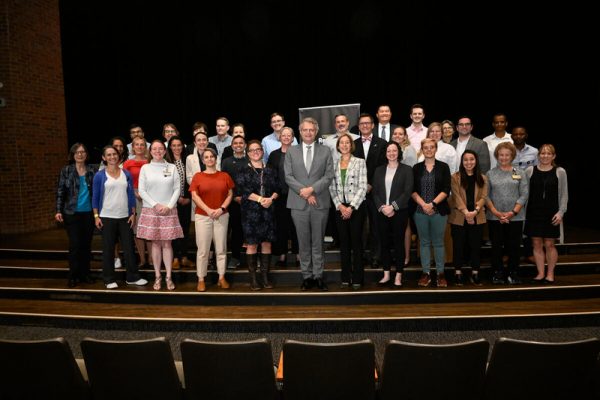 "The launch of this center is a landmark moment for Vanderbilt for several important reasons," Chancellor Daniel Diermeier said. "It will enable us to better address one of society's most urgent problems—the health care disparities that burden and shorten lives, weaken our communities and cost our health care system untold dollars. It is the very definition of radical collaboration—our signature practice of working across disciplines and departments inside and outside of our university to achieve greater outcomes. This center will go where the facts and data lead, based on rigorous research by some of the world's foremost experts. This clear-eyed pursuit of facts and truth in a moment often dominated by emotion and opinion is one of the most valuable roles a research university plays."
Launched earlier this month, the center is a trans-institutional collaboration of the College of Arts and Science and the School of Nursing. It is led by Christopher "Kitt" Carpenter, E. Bronson Ingram University Distinguished Professor of Economics and Health Policy.
The center is part of Discovery Vanderbilt, an initiative of the Office of the Provost. "Discovery Vanderbilt is about pushing the boundaries of knowledge and innovation. It's about unlocking new horizons, taking big risks and tapping into research ideals concerned with solving societal problems," Provost C. Cybele Raver said at the seminar. "The Center for Research on Inequality and Health is doing just that, by advancing the understanding of health disparities and promoting equity across society through groundbreaking research."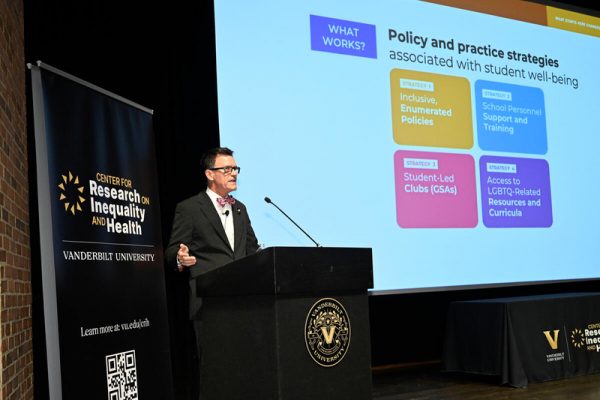 In his talk, Russell discussed how to better understand the development of LGBTQ+ young people today and why there are still differences in their mental health, even though society has become more accepting. He also discussed ways to build communities that provide support, lower the chances of mental health problems and boost the overall happiness of LGBTQ+ youth.
Seminar attendees participate in the Q&A period following Russell's talk. (Vanderbilt University)
Russell talked about distinguished alum John Fryer, MD'62, an American psychiatrist and gay rights activist. In 1972, Fryer gave a famous speech to the American Psychiatric Association where he implored its membership to remove homosexuality from the Diagnostic and Statistical Manual. In 1973, it did. Russell shared the story to represent how times have changed in 50 years.
"In 1973, the first time [the General Social Survey asked if a homosexual person should be permitted to teach in a college or university], 48 percent of U.S. adults were opposed. Most recently … it was 4 percent," Russell said. "This is a stunning pace of social change in one generation. It's really hard to think of other things besides our understanding and awareness of this and digital technology or medicine that have changed so dramatically in terms of public opinion."
This data-backed story of social evolution creates more possibility for young people to see themselves and understand who they and the people around them are. The seminar, held at Sarratt Cinema and attended by more than 130 people, concluded with a reception for attendees and center affiliates.
During the post-seminar reception, participants mingled and discussed topics addressed during the event. (Vanderbilt University)
"The inaugural seminar by Dr. Russell was a perfect encapsulation of what we will try to accomplish at the center. Faculty came together from Arts and Science, Nursing, Peabody College, the School of Medicine and the Divinity School to hear a world-renowned scholar at the intersection of sociology, psychology, epidemiology and child development," Carpenter said. "Undergraduates, graduate and professional students, and postdocs from across campus asked probing and smart questions, and community members came from across Nashville to celebrate the center launch. We are excited to replicate this combination of energy, excitement and scholarship at future events related to our other center themes of gun violence and social and economic inequality and health."
Research centers such as this are the impetus behind Vanderbilt's $3.2 billion comprehensive Dare to Grow campaign—the most ambitious in university history. By investing in research, discovery and creative expression, visionary philanthropists will catalyze vital work across our labs, archives and studios. Learn more at vu.edu/daretogrow.