Media Inquiries
Latest Stories
In a landmark achievement, Neil Dani, an assistant professor in the Department of Cell and Developmental Biology, has been named a 2023 Rita Allen Foundation Scholar. The prestigious grant program supports early-career biomedical scholars who adopt bold and innovative approaches to fundamental scientific questions in cancer, immunology, neuroscience and pain.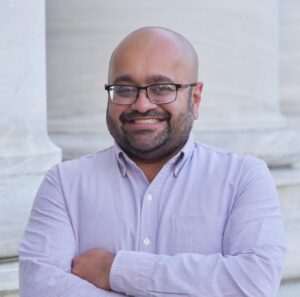 Dani is the first-ever researcher in the award's 47-year history to receive the honor while at Vanderbilt. This notable award will provide him with $500,000 over the next five years to continue his pioneering research.
"Neil Dani's recognition as the first-ever Vanderbilt recipient of the Rita Allen Foundation Scholars Program award is a testament to his exceptional talent and the caliber of research conducted at Vanderbilt University," said C. Cybele Raver, provost and vice chancellor for academic affairs. "This prestigious award not only provides him with the support he needs to continue his pathbreaking research, but also highlights the significance of his work, inspiring further breakthroughs and fostering collaboration within our vibrant scientific community."
Dani's transformative work is centered on the choroid plexus brain barrier and its integral role in brain development and function. His goal is to understand how the choroid plexus sustains brain health, transmits signals and prevents the intrusion of toxins and pathogens. His research has the potential to influence the development of new treatments for neurological and neurodegenerative disorders.
"This is an immense honor," Dani said. "This kind of support is especially important for early-career researchers who are exploring new questions in research areas that have been traditionally overlooked."
As a postdoctoral fellow, Dani and his colleagues made significant strides in their field, developing innovative live imaging tools for real-time visualization of choroid plexus cell activity. These advancements offer unparalleled insights into the dynamic processes within the choroid plexus and set the foundation for his research program at Vanderbilt.
Dani, describing the current period as a "renaissance era for choroid plexus and brain barrier research," said he looks forward to leveraging the award to push the boundaries of this underexplored area of neuroscience. He hopes this spotlight on his work will kindle further interest in the brain barriers and inspire breakthroughs in understanding of neurological and neurodegenerative diseases.
The Research Development and Support team within the Office of the Vice Provost for Research and Innovation played a critical role in Dani's application for the award. His application began with the announcement by RDS of a joint limited submission opportunity. He was selected as the institutional nominee after internal review.
"(They) provided great support from the very beginning of the application process, and I encourage others to reach out to the RDS team," Dani said.
Dani also underscored the importance of collaboration and community. "Several impressive early-career scientists at VU, VUMC and beyond were very generous with their time in sharing their experiences and their applications for early career awards," he said. He urged other junior faculty members to consider applying for similar awards by interacting with Vanderbilt's vibrant community and seeking support from resources like RDS.
The RDS team plays a crucial role in aiding researchers during the application process for all types of awards. Researchers and faculty interested in exploring such opportunities are encouraged to contact them at RDS@Vanderbilt.edu for comprehensive assistance. Services include identifying potential funding sources, assisting with grant proposal development, coordinating multi-investigator proposals and providing professional development resources.