First-year, transfer and Next Steps students took part in the Vanderbilt University tradition of Founders Walk on Aug. 20. In a celebratory procession, the students made their way from The Martha Rivers Ingram Commons to Alumni Lawn.
During this milestone year celebrating the 150th anniversary of Vanderbilt's founding, Chancellor Daniel Diermeier encouraged the students to take part in defining "the great university for the 21st century" through Vanderbilt's values of belonging, self-direction, continual growth and radical collaboration known as "The Vanderbilt Way."
"The Vanderbilt Way means we are always growing. We believe that potential—in people and in universities—is realized over time in both small steps and great leaps. At Vanderbilt, we grow together," he said. "And vital to it, vital to everything we do here, is our long-standing commitment to free expression and open inquiry. Only with these principles guiding us can we achieve Vanderbilt's purpose."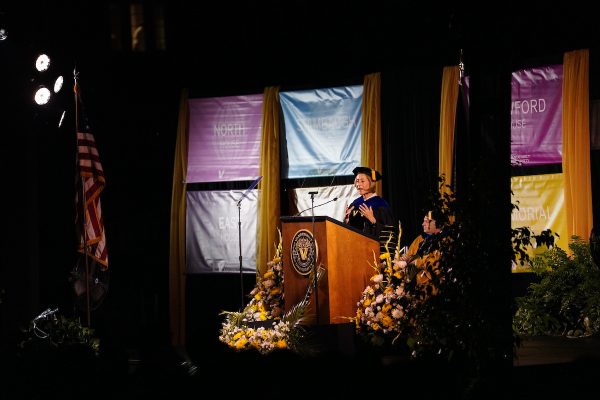 Provost and Vice Chancellor for Academic Affairs C. Cybele Raver called on the students to be open to exploring new experiences, places, people and ideas.
"The idea is not to be constrained by your preconceived notion of what the right answer might be, but to range widely in considering possible solutions, taking in even unlikely ideas," she said. "This willingness to be open is not only important in classrooms, studios and labs, it is also essential to the personal growth that you will experience here."
A highlight of the evening was watching each of the faculty heads stand up for their respective houses as students responded with chants and cheers, helping build house pride amongst the newest Commodores.
Other speakers included Tiffiny Tung, vice provost for undergraduate education and Melissa Gresalfi, dean of The Ingram Commons. Vanderbilt a cappella group Melanated capped off the evening by singing the Vanderbilt alma mater.