After students' suitcases were unpacked and loved ones gave their final hugs, the Vanderbilt welcome went into full swing! The university, along with its numerous support centers, groups and organizations, rolled out the black and gold carpet all week and through the weekend to help new and returning students experience how valued they are to the Vanderbilt community.
BCC FAMILY WELCOME & HARAMBEE MARCH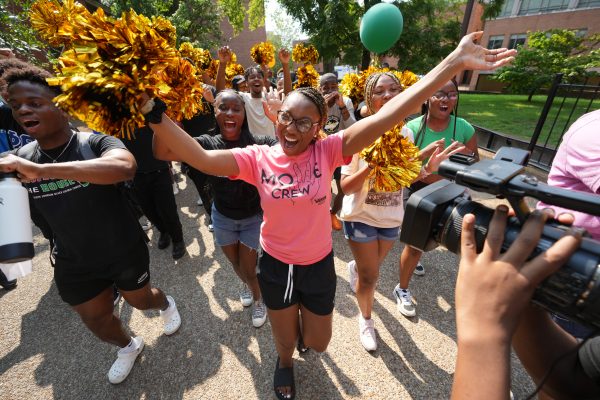 The Bishop Joseph Johnson Black Cultural Center joined the Welcome Week celebrations with a Family Welcome and Harambee March. This cultural and community-building program celebrates Vanderbilt's culturally and racially diverse campus.
First-year students who participated were welcomed by BCC Director and Assistant Dean of Residential Colleges Rosevelt Noble, upper-division students, faculty, staff and alumni.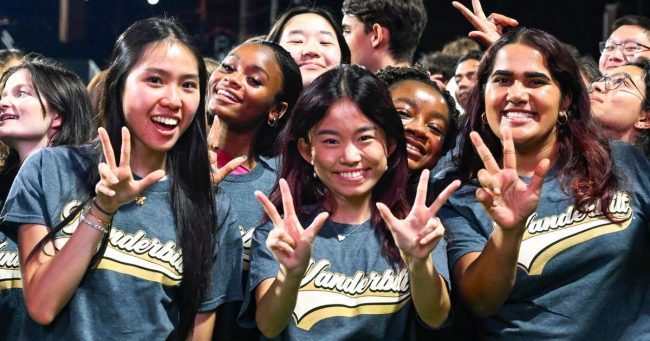 TRANSFER STUDENT WELCOME
Vanderbilt's newest transfer students came together for a special celebration on Sunday night as they made Vanderbilt their new home away from home.
The group also took a special "V" photo to commemorate their transition to Vanderbilt.
COMMUNITY COMMITMENT CEREMONY
Since the first classes began at Vanderbilt in 1875, the Honor System has served to strengthen the academic integrity of the university. During the Community Commitment ceremony, new students vow to follow the Vanderbilt Community Creed—a student-initiated statement of the values to which the Vanderbilt community aspires.
CLASS OF 2027 PHOTO
Vanderbilt students have taken part in this favorite Vanderbilt tradition of making their graduating class date since the opening of The Martha Rivers Ingram Commons almost two decades ago.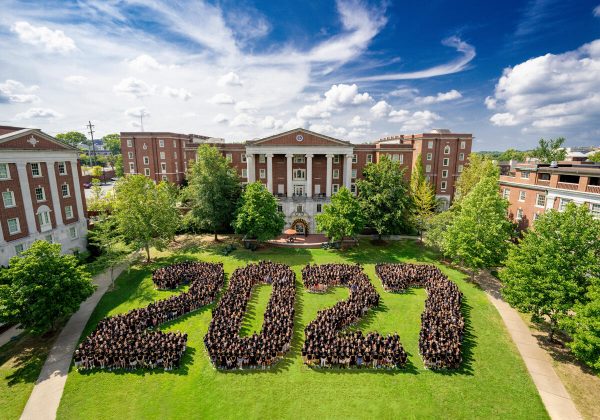 MAKING THE FIRST DAY OF CLASSES SPECIAL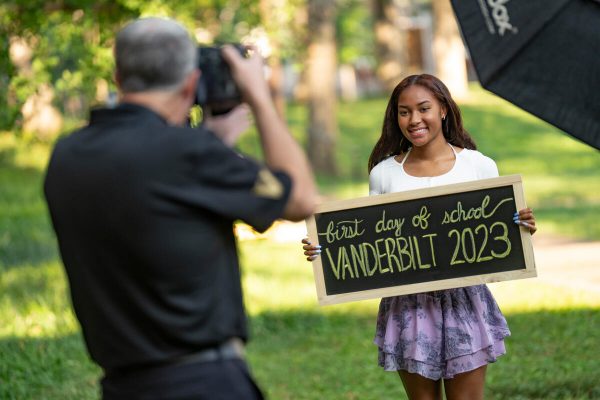 On the first day of classes, students across campus were celebrated with coffee drinks, snacks, first-day photos and fun swag to start off the academic year with Commodore pride!
STUDENTS GET INVOLVED!
Students representing dozens of student organizations, cultural and faith-based groups, political groups, pre-professional societies, club sports, research groups, student leadership organizations and more filled the Recreation and Wellness Center for the Student Involvement Fair. A full directory of current student organizations is available online.
GRADUATE SCHOOL CONVOCATION
Convocation is a signature celebration marking the beginning of graduate school students' academic journey at Vanderbilt. Graduate students were celebrated as the future of research and discovery. Students heard from leaders, including Vice Provost for Graduate Education and Dean of the Graduate School André Christie-Mizell,  Chancellor Daniel Diermeier and Vice Chancellor for Academic Affairs and Provost Cybele Raver.
GRADUATE SCHOOL RESOURCE FAIR
More than 400 graduate students came through Alumni Hall to meet each other and learn about resources that will help them as they pursue their Vanderbilt studies. Information included graduate student services, career development, information about health insurance and mental health, services from the Writing Center, clubs and organizations for graduate students to join and more.
SOPHOMORE RECHARGE
Vanderbilt's second-year undergraduates had a special celebration of their own. The students in the Class of 2026 reconnected on Alumni Lawn with food, games and more.
UPPER-DIVISION RESIDENTIAL COLLEGES WELCOME PARTIES
Community and belonging are strong throughout Vanderbilt's upper-division residential colleges. Faculty heads of college welcomed new and returning sophomores, juniors and seniors with food, community and fun.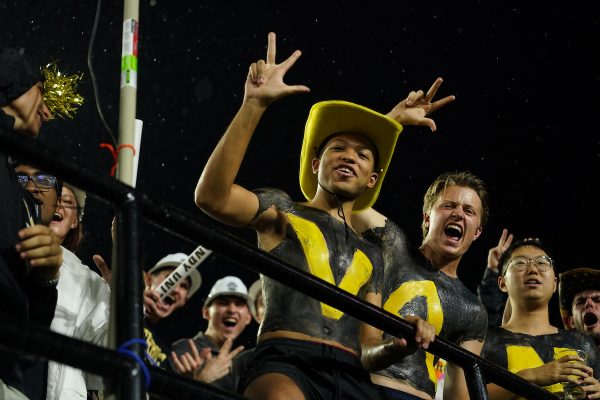 FIRST FOOTBALL GAME
New and returning Commodores fans came together at FirstBank Stadium on Saturday to cheer on Vanderbilt versus Hawai'i for the first game of the new season.
In support of recovery efforts after devastating wildfires on Maui, Vanderbilt Athletics has announced that a portion of proceeds from each ticket sold to the Commodores' season-opening football game against Hawai'i will be donated to the Hawai'i Community Foundation's Maui Strong Fund.
COMMODORE KICKOFF
A Vanderbilt tradition for first-year students took on a new "goal" as students in the Class of 2027 came together for dinner and a Commodores soccer game on Sunday evening against neighbor Belmont University.